How to create a resume for a job thanks to which you'll succeed? Read our guide on how to write a resume that catches every recruiter's eye!
A recipe for how to create a good resume can be compared to a recipe for a tasty cake. If you don't use one ingredient, the cake will be bad. Same with an effective resume! If it needs to convince employers that you're the one they need, you have to know which "ingredients" to put in it.
A GOOD RESUME IS AN EFFECTIVE RESUME
Have you ever wondered how long it takes a recruiter to view your application? Maybe 2 minutes? 3? Well, no — they spend 6 seconds on average analyzing your resume! It's a very short time, right?


This is why, when writing a resume, you should be precise. Don't add information that isn't needed for the position you want to get. Try to tailor your resume to what was in the advert.

The job market is constantly changing and becoming more and more competitive. This is why knowing how to make a good resume for a job is so important.

In the CraftCV resume maker, you will quickly and easily add sections to your resume. The resume maker will ask you for all the information step by step. Thanks to that, you surely won't forget anything! You can make your resume in just a few minutes — easily and comfortably — without any experience in graphics.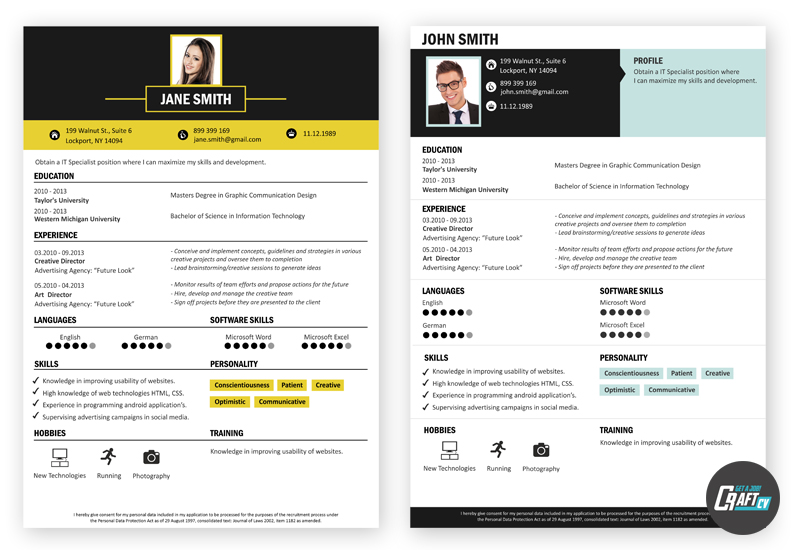 HOW TO MAKE A RESUME PERFECT FOR GETTING YOU A JOB?
A STEP BY STEP GUIDE
The start of writing a resume can be hard. It can be especially difficult if you've worked in one company for many years and didn't need to search for a new job.

Start by gathering all the information about your work experience. Think about all the dates, training, coursework which can be important. Then, prepare information about your education.
Remember to put all the dates in reversed chronological order - from newest to oldest. At the top, aside from the title and your personal info, also put your career summary.
WHICH PERSONAL INFORMATION SHOULD YOU PUT IN A RESUME?
Every resume should contain contact information at the top of the page. Personal information is one of the basic elements and the first thing that needs to be in a resume.
Your personal information in a resume should follow this rule:
First and last name
Home address
Phone number
E-mail address
Do you want your contact information to give you a bigger chance of getting a callback?
Add:
LinkedIn profile link
Your web page URL, if you have one
Example:
Name: John Smith
Address: Anchorage, AL
E-mail: name.surname@gmail.com
Phone number: +48 65445000
www.yoursite.com
HOW TO MAKE A RESUME STAND OUT?
WRITE A CAREER OBJECTIVE TO FASCINATE YOUR EMPLOYER!
If you want to stand out, prepare your career objective, also known as a career summary. Apparently, that part is rarely used by candidates. That's a big mistake! An interesting summary of your career can make it faster and easier for an employer to judge if you're worthy.

Remember, you only have around 6 seconds to interest an employer and give them the most important information about yourself. That's why a career objective should have as few words as possible. You only get a few sentences to tell the recruiters about your education, job experience, what your greatest skills and work achievements are, and what kind of job you're searching for now.


To make things easier, here's an example for the position of a cosmetician:
I've been working as a cosmetician at XYZ beauty salon for five years. I provide most skincare services (of both face and body). Currently, I am taking part in a course about modern methods of lifting massage and hot stone massage. I am looking for a job at a SPA, where I could continue developing my skills and gain new, valuable experience.


Remember: a career summary should be a response to the employer's demands and are supposed to interest them.
You will quickly and easily add a career objective to your resume in our resume builder. In it, you will also find resume templates ready for you to use them, tips, and examples.
EDUCATION - DOES A GOOD RESUME NEED IT?
The education section is most important to people with short work experience. The longer your job experience is, the shorter the education section should be. Don't add unnecessary information to fill more space in a resume. It can only make an employer less likely to choose you.
The elementary school you finished 10 years ago does not matter. That is unless it was the last school you went to.
Education should look in a resume as such:
Year of graduation or years of attending the school. (Don't write down both year and month, just the year is enough)
Name of university/school and town name
Study major, diploma
The topic of the thesis (if it's related to the job position)
Learned trade, for example, electrical engineer, welder (if you have one)
Example:
2014 – 2017 Olsztyn University - Journalism and Social Communication; specialization: radio journalism, full-time studies graduated with honors, title: bachelors.
A personalized cover letter (if the potential employer asks for it) can make your application even better. In our resume builder, you'll make both a resume and cover letter with the visuals that fit you.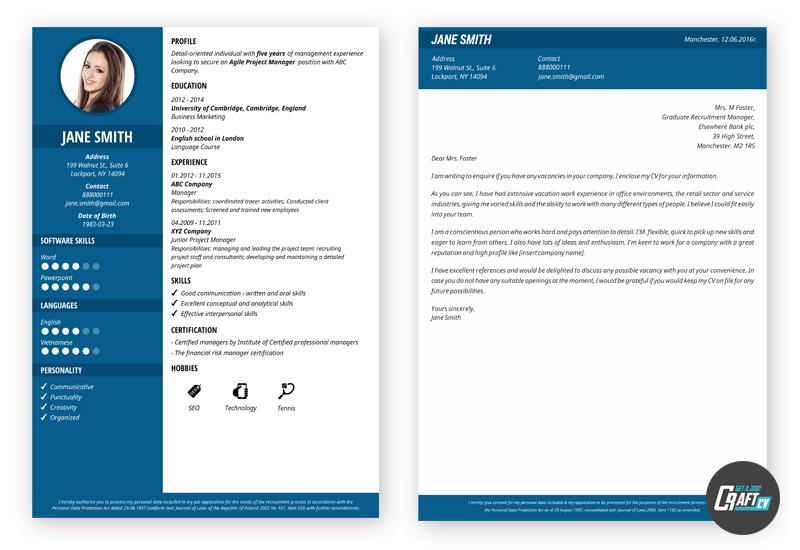 An effective cover letter should be short - not longer than one A4 page. Just like in a resume, avoid things everyone can mention, like a positive approach to work.
HOW TO EFFECTIVELY DESCRIBE WORK EXPERIENCE?
A good resume shows the candidate's best side - as a professional and expert in their field. Work experience is the most basic part of your resume. Therefore, after a career objective, you should describe your experience and most important skills.
Employers usually only look at your last two job positions.
Describing your experience, remember to:
- fit your experience to the employer's needs as much as you can,
- not be vague about your tasks, such as selling a company's products. It will not tell the reader much. If you want to interest an employer, write something like "last year, I increased the company's income by 15%"
- include only the tasks that are important to the employer, which fit their requirements. Same with skills.


Example:
10.2011 - currently
Lidl Poland
Position: Junior Buyer
Most important duties:
Lowered costs of buying Isana products by 15%
Signed contracts with foreign distributors
Was creating marketing strategies for the Isana brand
Was entirely in charge of the product category
Monitored the market in terms of supply and demand
Was in charge of training the personnel of collaborating companies in the topic of knowledge about the product, and the method and culture of sales.
So… How to create a creative resume to get more job offers?
To summarize:
- numbers and percents are attractive to an employer. If you can, use them in descriptions of your skills and duties;
- focus on specifics, fit your resume to the advert;
- remember to check all the dates related to your jobs and the names of positions.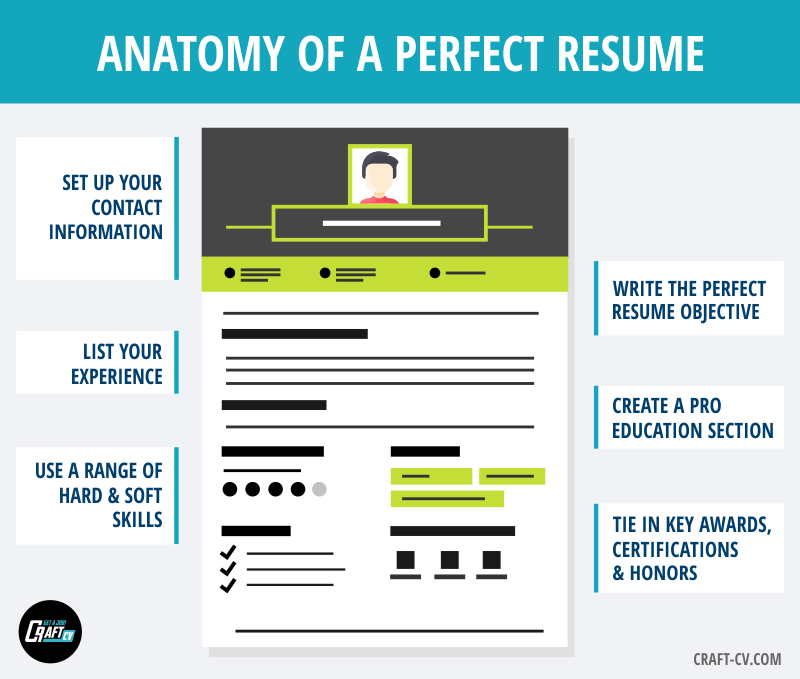 A GOOD RESUME ATTRACTS ATTENTION AND STANDS OUT VISUALLY
Looks can tell a lot about a person. Believe it or not, the same goes for a resume! A good resume should look neat and be easy to read. That's why taking care of the visual aspect is important.
Writing a resume, use spaces, colors, bold your text where needed. Of course in moderation. It's all about making an employer focus on what's important.
Research says that for one position, there are roughly 50 candidates. While it's true that an employer spends around 4 minutes on reading a resume, the first 6 seconds decide if your application will be rejected or read.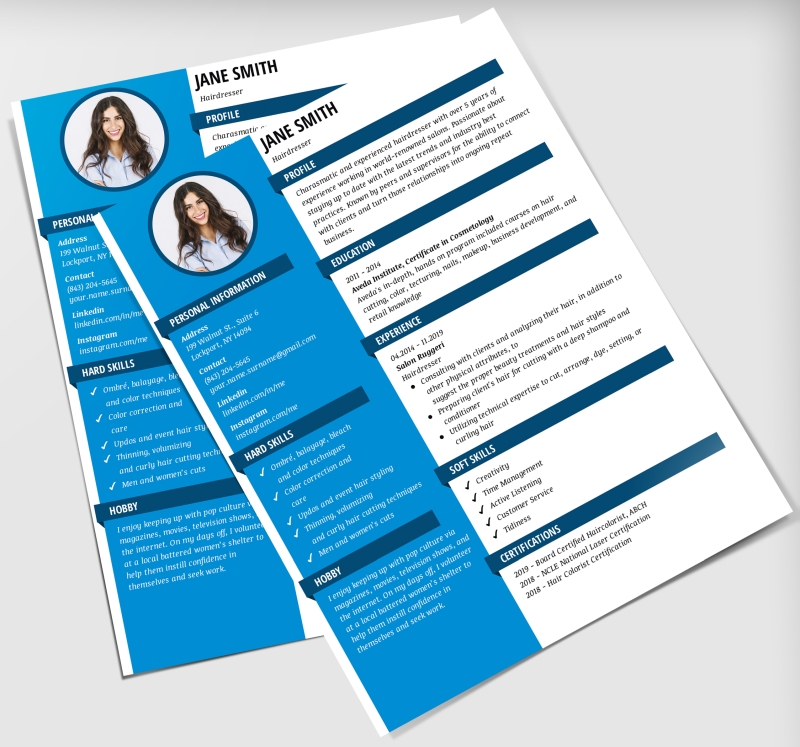 WHICH SKILLS TO INCLUDE IN A RESUME TO INCREASE YOUR CHANCES?
It all depends on:
1. the type of industry – think about what traits are useful for your job, what is needed for your position.
2. the position – if you will be working in a team or alone. And if as part of a team - as a member or leader?
3. what's in the advert – many of them contain information on what traits would make a good employee. Those are the ones worth listing.
A tip from us: Don't just think about what you can do, but mostly what can make you better than other candidates.
Describe every skill in 3-6 words (using CraftCV resume builder makes it easier. If you see that the description is longer than one line, you know it has to be shorter!)
LANGUAGES AND SOFTWARE IN YOUR RESUME
A foreign language is one of the basic qualifications for basically everyone. You should brag about your knowledge of it, even if the job offer does not require it. It also says a lot about your willingness to learn and other good qualities (diligence, openness to people and experiences, etc).
To employers, the most important thing is your practical skills. So, if your knowledge of certain technology and software is key to your position, mention it in a visible place.
Computer software proficiency – we mention only the software that can be useful in your field of work. It's best to write the name of the app and how proficient we are in it.
Example:
Microsoft Word - advanced, EG. creating complex documents, visual effects, and macros
Microsoft Excel - advanced — knowledge of pivot tables, making and management of macros
Driving license – here, we put the appropriate category and year of getting the license.

HOW TO PROPERLY DESCRIBE INTERESTS
WHEN YOU CREATE A RESUME FOR A JOB?
Many candidates think that the interest section is unnecessary and skip it. It's a mistake. Recruiters like employees who can separate their work from their private life. Having a hobby often allows for that.

Besides that, people who have interests often seem more interesting and approach their tasks with more enthusiasm. You can find out that your future employer shares your passion and a conversation about your interests will help with further negotiations related to your position.


So, how to write about interests when you make your resume?
Try to use your interests to show what kind of person you are
Avoid interests which could be controversial
If you have a lot of hobbies - list 2-3 strongest and most often practiced
Try to use your interest to highlight your competencies



How to create a resume for a job that fits your employers' requirements? Look into our guide: How long should a CV be? What is the ideal CV lenght? [+Tips]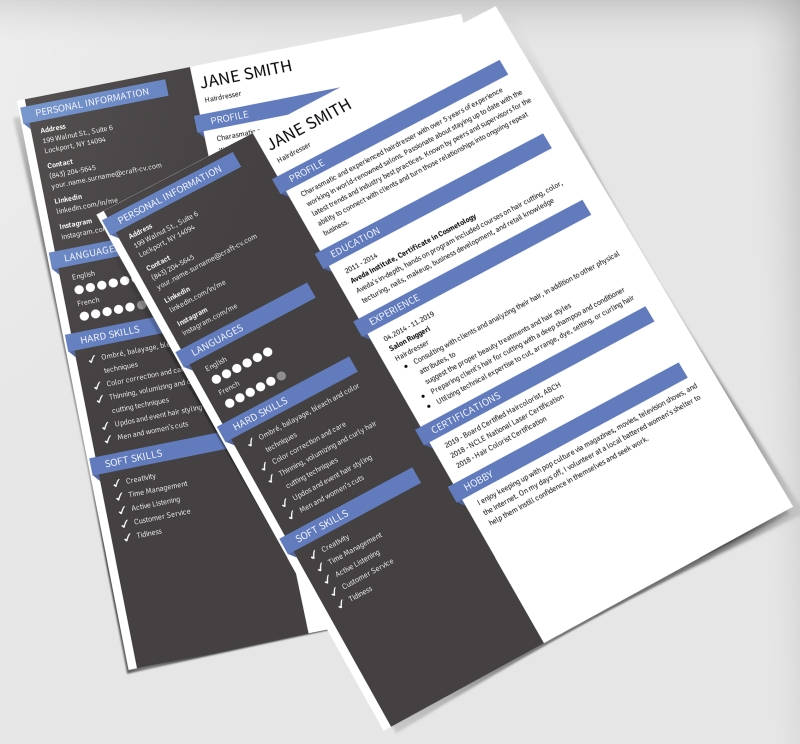 HOW TO WRITE A RESUME - SHORT SUMMARY.
RECIPE FOR A GOOD RESUME IN A NUTSHELL
CONTENT

Fit your resume to the employer's offer;
Describe your career objective in a few sentences;
Ensure an easy way of communication between you and the employer. List your home address, e-mail address, and phone number.
The education section is the most important for people with short work experience. The longer you have been working, the less information your education section should have. Don't add unnecessary information to make your resume seem fuller.
Sections like education, experience, coursework on a resume - the newest information should be at the top (reverse chronological order)
Describing your experience, use numbers, precise data.
List only the abilities that make you a better candidate than others. Group them into categories (computer skills, soft/hard skills, foreign languages, etc).
Add a photo of yourself.
If you have interesting and unique hobbies - write about them!
Remember to add an up-to-date clause about personal data processing.
VISUALS
Make sure your document looks neat
Make the most important information stand out
Use a clear and easy to read font (in CraftCV resume maker you can choose one of 8 fonts for a title and 8 for contents - carefully selected so that your resume looks modern and easy to read)
It's good to use bullet points, paragraphs, bold and italic versions of one font
Before sending your resume, make sure it doesn't have mistakes, typos, and that it's saved in the best format (PDF)
Remember about numbers. How many people you were in charge of, what tasks you used to fulfill... Numbers are convincing!
Try to keep your resume shorter than 2 A4 pages. Include information that might interest the specific employer and cause them to want to know more about you.