Graphic Designer Resume: Example & Sample - In this article, you will find a graphic designer resume example and other necessary information about the position.
A graphic designer is a person who turns an idea into an image. They make leaflets, posters, and other projects. To start working as a graphic designer, however, you will need more than just knowledge of how to use Photoshop.
In this article you'll learn:
What are the traits of a good designer?

Graphic design Resume objective example

Top skills that employers look for in Graphic Designers
How to write work experience on a Graphic Designer Resume

Where can You get a job?
GRAPHIC DESIGNER RESUME — WHAT PERSONALITY TRAITS ARE USEFUL?
Very good work planning
Ability to work under pressure of time
Active listening (to meet clients' expectations)
Creativity and a high sense of beauty
Independence
Scrupulosity, even perfectionism
Patience
Being assertive
Empathy
Easy communication
Responsibility
Finishing tasks on time
Easily learning technical knowledge
A good graphic designer spends hours looking at different projects, always searches for new inspiration, has created a lot of things, and would never let a creation of theirs be less than perfect.
Remember: The more similar the skills in your resume and the advert are, the more of a chance you have to be invited for an interview.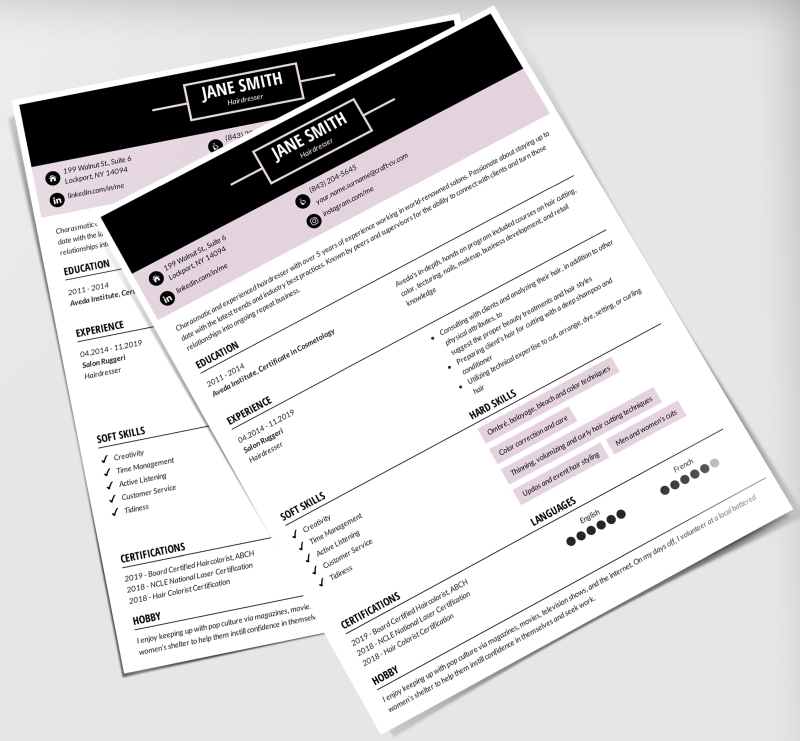 WHAT SKILLS ARE DESIRED IN A GRAPHIC DESIGNER'S RESUME?
Ability to use a computer — both using software like Adobe Photoshop/Illustrator and being open to new technology
Ability to work under pressure
Ability to work on a few projects at once
Knowledge of the newest trends in multimedia, advertisement, design – and adapting your projects to them
Knowing printing techniques, their abilities and limitations
Ability to prepare material for print
Knowing the rules of visual composition, lettering, and choosing colors
Also welcome:
Proficiency in HTML, CSS, JavaScript, webmaster tools, Flash technology
Skill in processing video and computer animation (Premiere software, After effects)
Visualization (3D graphics)
Knowledge of copyright laws
Knowledge of formal aspects of designing a logo
Highlight the abilities that are the most important in the advert. Why? Because you're applying for the graphic designer position. Not everyone knows what you do and different wording can make the recruiter think you don't have the right skills.
A GRAPHIC DESIGNER'S CAREER SUMMARY – WHAT TO WRITE AND HOW?
This section's place is at the top of the resume (which is why you'll find it there in our templates) but you should write it last. Why? Because you can then see your whole story. And now you can take it all and put it into a few sentences. Show them who you are. One look and two nice sentences can put your resume on the top of the list, but if they're not good, it might end up in the trash.

Write down your specialization, how much experience you have (if you have a lot). Focus on your best qualities, mention aspirations.


"I am a digital artist who works with Adobe software. I specialize in visual identification, building a company's image, branding, web design, and complex graphic services."

"I am a digital artist who wants to develop my skills and face new challenges. I specialize in processing marketing resources and preparing them for print."

"A well-organized and creative graphic designer with 3 years of experience gained in an ad agency. Proficient in Adobe software. Seen as a versatile, unconventional, and committed employee, great at working in a team. Searching for a job in which she'd feel fulfilled."
GRAPHIC DESIGNER RESUME EXAMPLE
Graphics is a graceful, very demanding field of work. The look of your application should be the same. Remember though, your document will be seen by HR, not the ad department. It has to be functional and easy to read. You'll show off your skills when describing your experience. A clear, unique template with a good photo can basically carry you to an interview.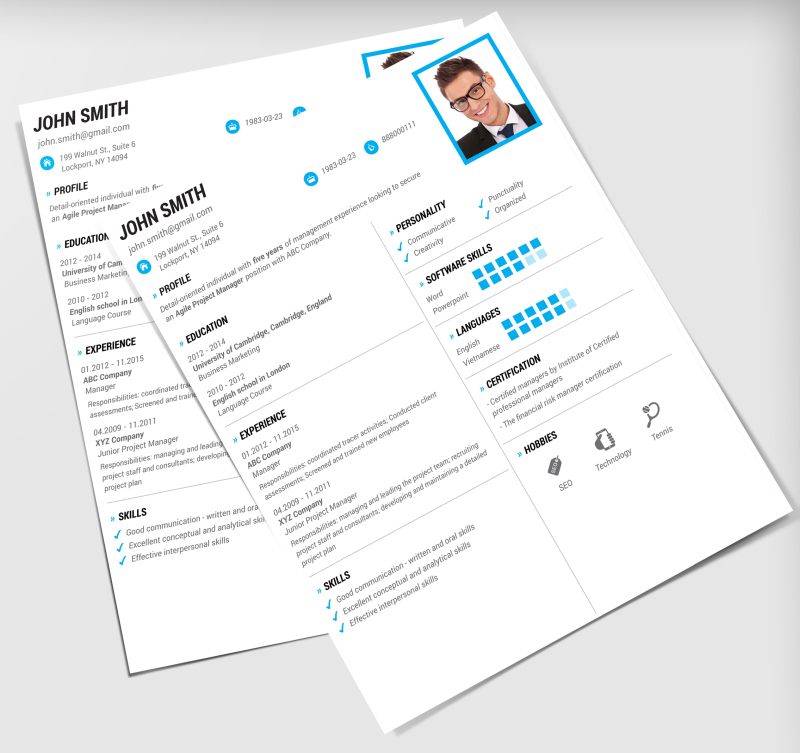 Graphic design is definitely a creative job, so we can use that creativity when making a resume.
You don't have to format the resume and pick fonts for a cover letter all by yourself. Thanks to our samples, you'll save a lot of time.


See our Graphic Designer's resume example.
Are you trying to get a dream job? Do you not have time to write a resume that would stand out? Recruiters usually spend just a few minutes on looking through a resume. So, if you're searching for an effective way to highlight your skills, CraftCv's samples offer unique ways to help you stand out. Check out our new guide: Online Resume Builder (Free & Best Resume Templates)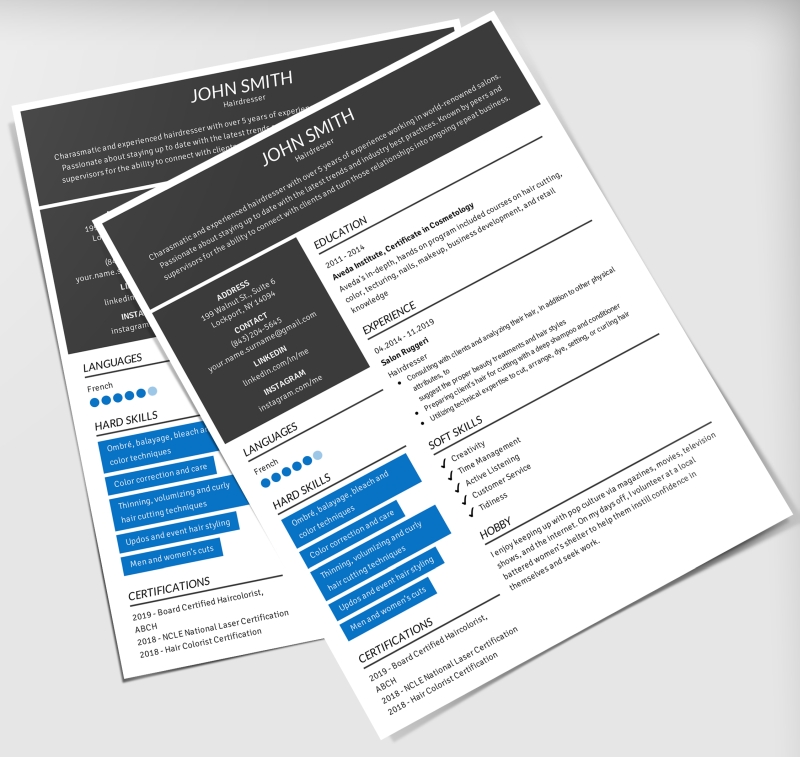 A well-written graphic designer's resume is not just visually attractive (clean and pleasing to the eye). It's not just a graphic project. It's your personal offer, directed at the specific employer in response to a specific advert.
WORK EXPERIENCE IN A GRAPHIC DESIGNER'S RESUME
A portfolio of a good graphic designer is their best business card. So, in a graphic designer's resume, you have to use it well. Specifics are important here. Without it, you won't stand out from the rest. Ignore all useless information and focus on precisely describing experience related to graphic design. List projects you took part in and software you used for it. Of course, you should focus on those mentioned in the advert.
Remember keywords? Use them now to subtly make them stand out - with a bold font, for example. For that method to work though, you can't make too many words bold.

If you can add links to your projects, do it! You will not only interest the HR department but also show off your skills. Thanks to this, you'll show the employer you're an expert.
Tip: You don't have to use the position name as is written in the contract – use a name understandable for everyone that describes what you do.
If you're looking for your first experience, do a few projects for free or just create a few pieces as a demo.
What are the main duties of a digital artist?
Designing web resources (web page, landing page, mailing, banner campaigns, newsletters)
Designing materials for print
Making graphic resources for social media
Designing visual identification
Creating a company's visual image/brand
Preparing photos, product visualization
Preparation for printing
Contacting printing companies
A good graphic designer should be able to do and create many very different things. One client can, after all, need a logo, catalogue, flyers, photos of products.
EDUCATION AND COURSEWORK FOR A GRAPHIC DESIGNER
It's a job in which skills are more important than education. Because of that, employers rarely expect higher education in IT or Art (though it can be beneficial). They are instead interested in seeing the projects.

Formal education is less important than experience. BUT, if you have the right education, it's good to mention that. Remember that only the last step of education matters. If you've ever done courses related to the job, definitely mention them!

Training for digital artists can be about graphic software. Such courses have various levels. Also, such programs are often updated and published in new versions, so there are always new things to learn.

When it comes to foreign languages, knowing English will be a big plus. Other ones will be great too, especially in projects for foreign clients.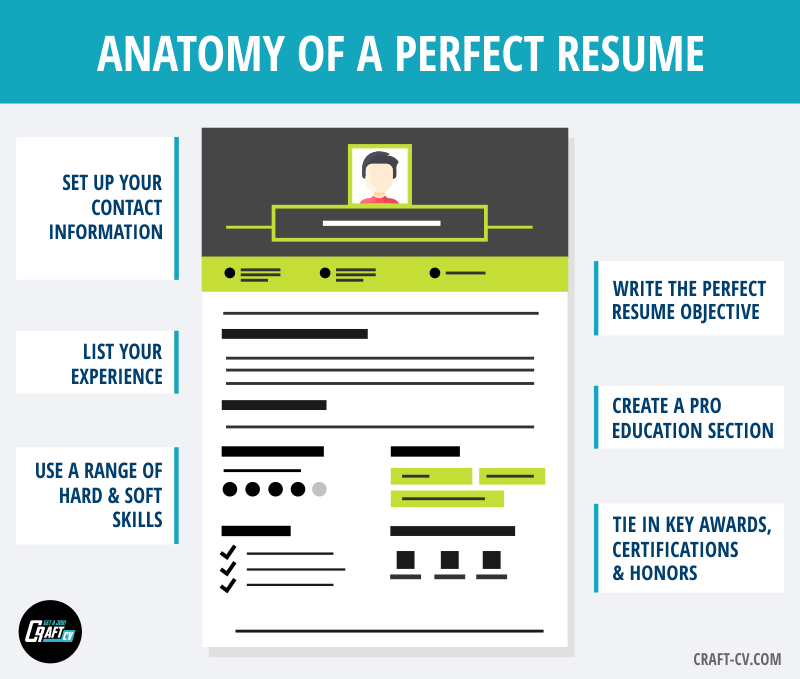 WHAT ARE THE CAREER DEVELOPMENT OPTIONS FOR A GRAPHIC DESIGNER?
Managing a team/department (Senior Graphic Designer)
Development in other directions (for example Webmaster)
Development in visual marketing
WHERE CAN YOU GET A JOB?
A digital artist's job is not so typical because their main tool is a computer. That gives them a lot of freedom and mobility. A graphic designer will find a job in ad agencies and PR departments of big companies. They can work full-time, run their own business, or be a freelancer on a commission.
The most popular places for an artist to find a job in (aside from ad agencies) are:
Marketing department,
Digital art studios,
Publishing houses
Printing companies,
Companies who want to promote their new product,
Online shops
Tip: before you start searching for a job, think about making a portfolio and creating your own professional image on the web.
YOU ALSO CAN USE ABOVE TIPS WHEN WRITING FOR POSITIONS LIKE:
Creative graphic artist
DTP graphic artist
Designer
Visualization specialist
Front-end Developer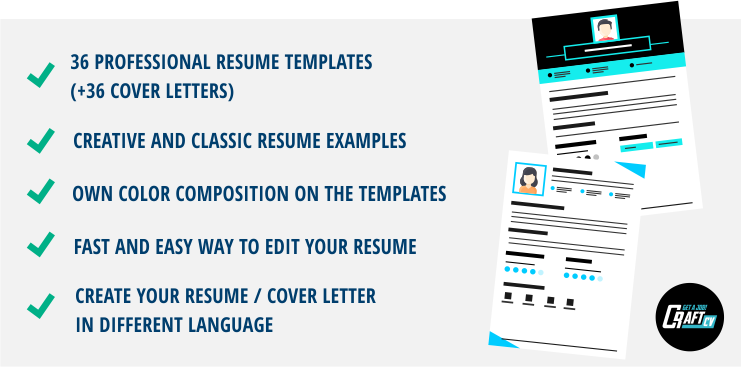 More Articles For Resume Writing: