COVER LETTER – WHAT IT IS AND WHY YOU SHOULD WRITE IT
A cover letter is a letter that you send to a recruiter. It can be out of your initiative or because it is required in the job advertisement. What for? The name says: to "motivate". Who? The employer. Yourself too, by the way. :)



You write a cover letter to show that:


you care about work
you care about THIS PARTICULAR job. This exact position in this exact company.
you are suitable for this job. Most of all because of your attitude, qualities and values (then education and experience)
You send the cover letter TOGETHER WITH YOUR RESUME. The cover letter is to be an extension and complement to the content of the resume. You show more of yourself. You have a chance to point out what you did and where you did it. Not only that, but you can also TALK about yourself. Who you are, what you think. About what's important to you, why you feel like this job is for you.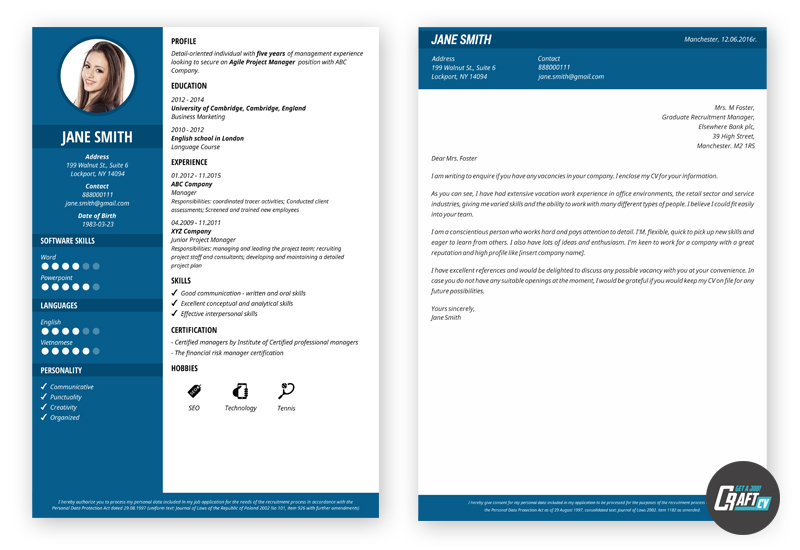 Why write a cover letter?
to expand and complete the information contained in your resume
to present yourself, not just your achievements. Show what kind of person you are, your opinions, and so on.
to show that you know what you are signing up for. That you chose the company and the position consciously. Show that "I will apply everywhere and see who answers" is not your philosophy.
to show your enthusiasm and your attitude towards work
sometimes also to make up for the fact that you have less than the required experience or skills
Recruiters select candidates based on "specifics". Can they do something or not? How long or short they did it for? In the cover letter, you add to this dry data. You write why you did it. Why you want to do it here. Why you want to do it at all, and so on.
The recruiter wants to see more of you. The description of your feelings and motivation to work in the cover letter will help. It will work better than the "high motivation and willingness to learn".


Your resume will attract attention when it has a professional graphic design and when it is transparent. Appropriate colors can increase the reader's interest (by up to 80%).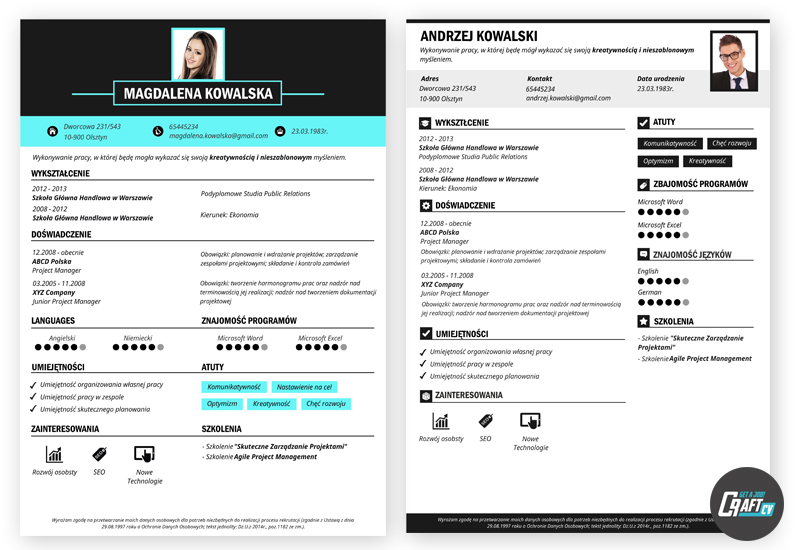 HOW DO I WRITE A PROFESSIONAL COVER LETTER ?
You must have an introduction, a body... and so on. In detail:
Introduction – with basic information about you and what position you are applying for. Show that you know exactly what the job is about. Describe who you want to work for and where. Provide the position, the department name and other information you have. This will prove that you are involved from the very beginning of the recruitment process. And this means you will probably also be involved in the work.
Body – this is the main part. A description of what prompted you to send a response to the advertisement. Why you are suitable, what your strengths are, and so on.
Conclusion – typical for an official letter.
Courtesy return, repeated application for admission to work, signature.
Here you can also mention any attachments you add to the application.

How to make a creative resume all by yourself? Use a simple and easy resume maker! With it, you'll make a modern resume in just a few minutes.


PROFESSIONAL COVER LETTER TEMPLATE
You can prepare a cover letter in a few minutes in our CraftCv CV Builder. You will find ready-made templates, tips and examples there.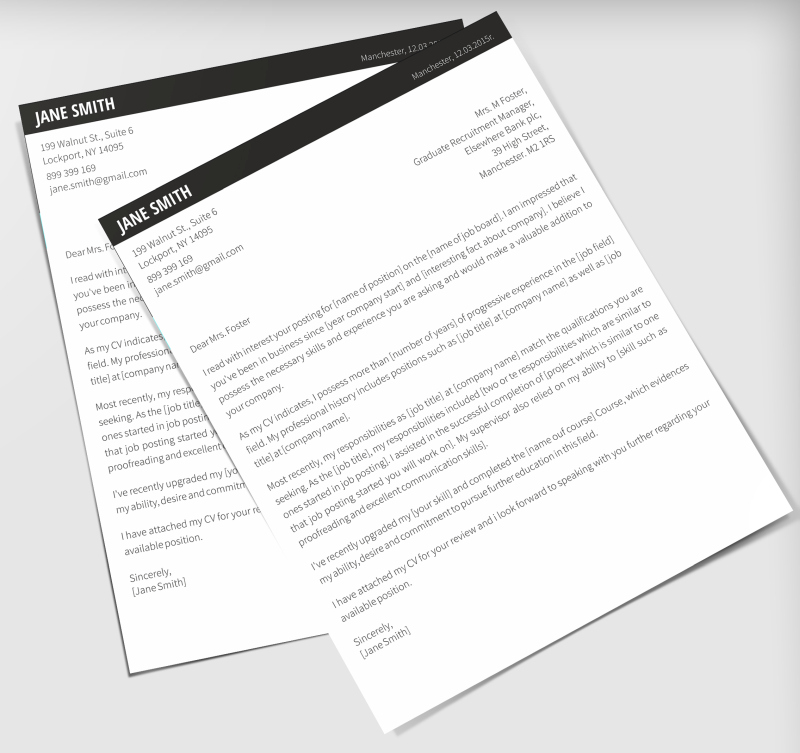 How to write an effective career summary in a resume? Resume Objective it's a short summary of your experience. Read: Resume Objective Examples - How to write + Tips

EFFECTIVE COVER LETTER TIPS – CONTENT AND FORM
What and how to write in the cover letter to attract the recruiter?
And by honest, I do not mean truthfulness. The fact that we do not lie is obvious, isn't it? The point is to open up to the recruiter, show your true self. Imagine that you are already in an interview. They ask you a general question like "What prompted you to apply to our advertisement?". But what actually is it? Tell them (in the letter)!
There are no perfect candidates. You might consider yourself even less perfect than the "rest of the imperfect". Maybe because you have little experience. Don't worry about it! You can make up for this shortage with one of your advantages. Describe it. Write that you are aware that you miss this and that. But also that you care about getting this job and think you can handle it because...
That's where you start giving arguments. Since you're sending your application, I'm sure you already have something in mind to finish this sentence. Now just put it in words and down on paper.
It is so-called storytelling. Don't worry, you don't need to know copywriting nor marketing. It's about introducing yourself in the process. About sharing your story, the way that led you to where you are now. Of course, don't exaggerate, you're not creating an autobiography here. List not only the qualities you have but also where they came from. Why you want to work here – and why in this industry, why in this profession.
Talk about your values and needs. What it would give you to work in this position, what it would bring to your life.

do not duplicate resume information
That's why they're asking you for an additional document. They want to find out something new about you.
Don't overstate your character. The mere mentioning of features is unreliable. Such things work in practice. Better talk about specific achievements or experiences. "I have experience in..." or "I have completed many projects" are too general. Such texts are used by most candidates. Instead, write what your most interesting project was about. Where it was implemented. Who the recipient was.
What the achievement was. The more accurate the data, the better - people like to see numbers. Also, there is no point in exaggerating – describe 1-2 of the greatest achievements.

do not copy hackneyed phrases
"I am writing in response to a job advertisement". "I would like to convince you of my candidacy for an employee...". The vast majority of cover letters start with such slogans. It is correct but boring. Instead, start with: "I would like to present [number] reasons…" or "Occupation [name] requires [attribute]. As the future..., I..."


PROFESSIONAL COVER LETTER EXAMPLES
FOR ALL JOB APPLICATIONS IN 2023
A cover letter is not enough — you also need an
effective resume
. Try our CV Builder and quickly complete all resume sections in an easy and quick way. You can choose from more than 36 different resume layouts!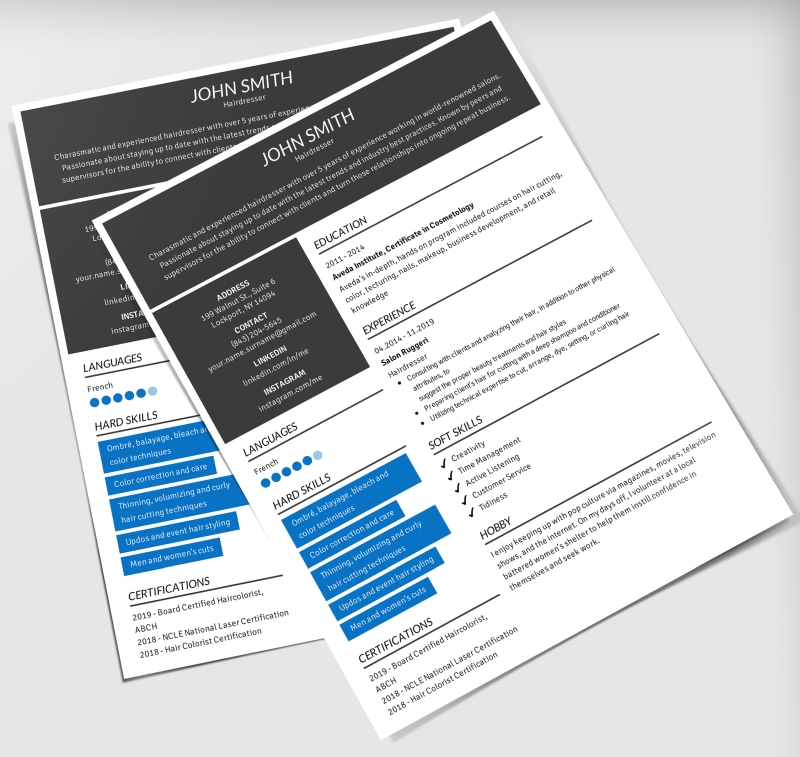 EFFECTIVE COVER LETTER EXAMPLE (2023)
Keep in mind, that a cover letter is a supplement to your resume, not a replacement. Meaning, you don't just repeat whatever is mentioned in your resume.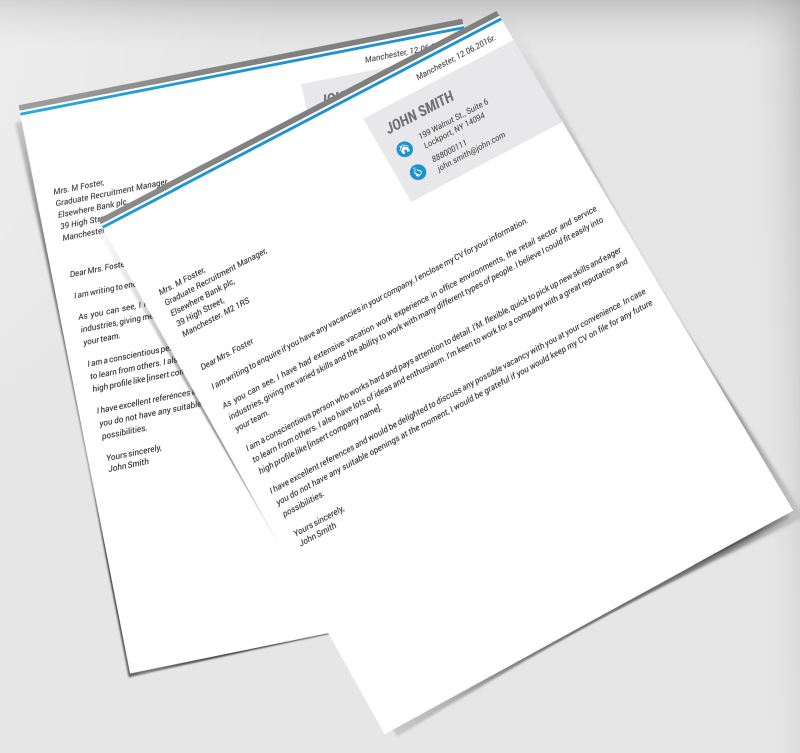 CREATIVE COVER LETTER SAMPLE
If you're looking to work for a company, but there aren't any positions currently open, try writing a letter of interest for a job. It's a great way of uncovering vacancies that aren't even advertised.


CV AND COVER LETTER EXAMPLES
THAT WILL HELP GET YOU HIRED
In CraftCv's resume builder, you'll make your resume in just a few minutes. A resume maker is very easy to use and doesn't require any additional knowledge of graphic software or downloading additional apps. You just need to choose a layout and fill it with content. See how easily and quickly you can modify information in resume samples.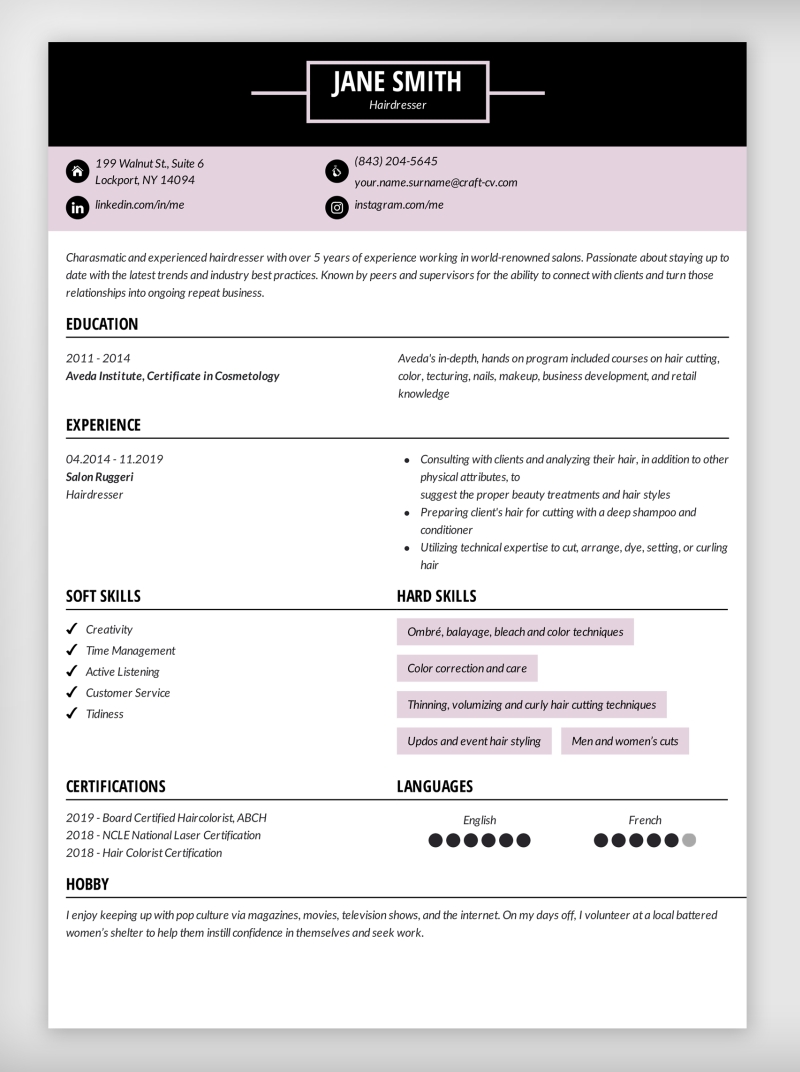 SUMMARY: WHAT SHOULD AN EFFECTIVE COVER LETTER 2023 BE LIKE?
Personalize it. Direct your cover letter to a specific person.
Select why you would like to work for this specific company.
Prove that you are the best candidate for this position.
Write concisely – 1 page resume is enough
Choose simplicity – emphasize important parts graphically
Take care of the structure – header, caption, paragraphs
Let your letter have an aesthetic appearance and a clear graphic form
Save the cover letter in the appropriate format (PDF)
If your cover letter is neat, it'll be more readable. In CraftCV CV Builder, you create lists in the same style as your resume. It will look nice and cohesive! The aesthetic form and correct, convincing content increase the chance of employment.
It is good if the candidate has the experience. But it is more about arousing sympathy. Thanks to a good cover letter you can awaken in the recruiter exactly this type of feelings towards you :)