A quick and simple online resume builder. Make a professional resume and download it as a PDF file. Choose the best resume sample and get a job faster!
Are you trying to get a dream job? Do you not have time to write a resume that would stand out? Recruiters usually spend just a few minutes on looking through a resume. So, if you're searching for an effective way to highlight your skills, CraftCv's samples offer unique ways to help you stand out.


From this article, you'll find out:
What is a resume builder
Why do you need resume builder?

How do resume builders work?

Why you should choose CraftCv's online resume builder
Examples of resume templates you can get in CraftCv's resume builder
Free resume templates to download as a PDF
WHAT IS A RESUME BUILDER?

A resume builder is a very easy to use software for online resume creation. In it, you'll find professional resume samples you can quickly and intuitively fill out. You don't need to know any graphic software or download additional apps.

The software works in your browser, so you'll be able to easily open and finish working on your resume anywhere, anytime. All you need is Internet access and Google Chrome or Firefox.


Thanks to our online resume builder, you can be sure that the information was written where it should. The resume builder gives the resume a visually interesting "shape" — thanks to which it'll stand out in a good way. In CraftCV's resume builder, all the information you put on your resume and professional cover letter is automatically being saved in the editor. All the data in one place!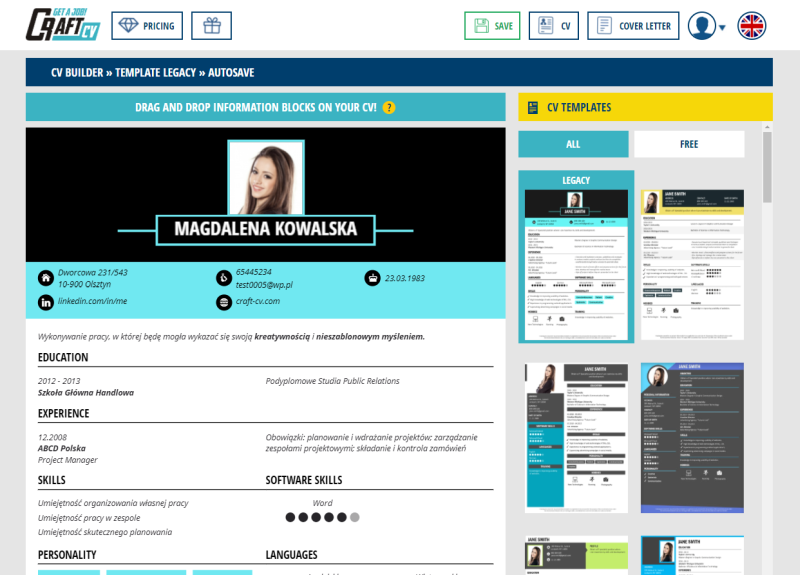 HOW DOES AN ONLINE RESUME BUILDER WORK?

1. Make a free account
Making an account on CraftCV is - and will always be - free. Having an account here will let you finish working on your resume at any moment.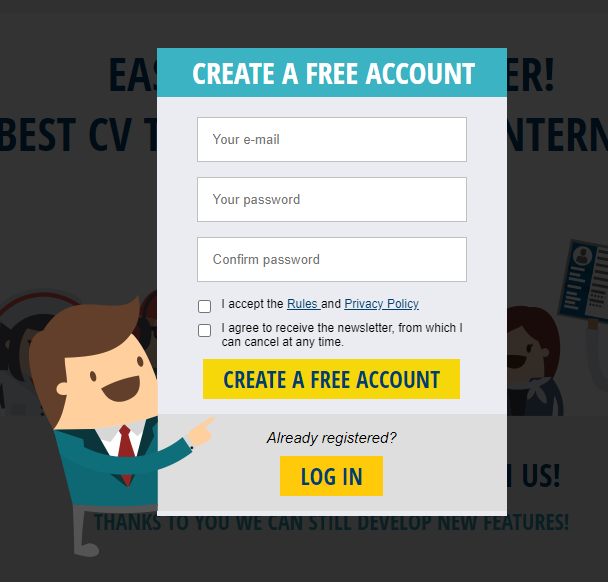 2. Choose a resume template
Choose a resume template you like, color palette, fonts for contents, and titles. You can pick from simple and traditional and some more bold, original, and creative samples.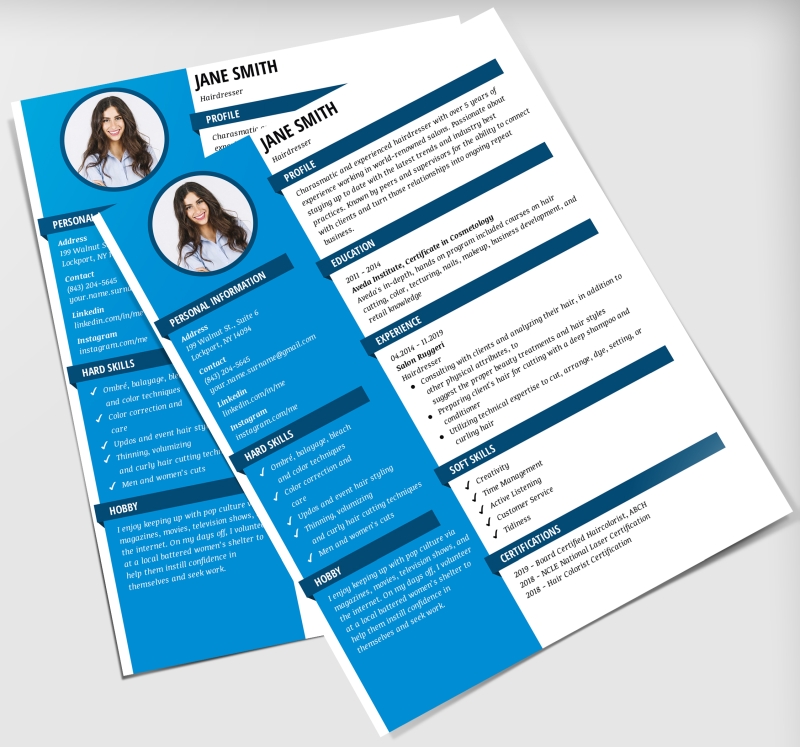 Choose a template that best reflects your personality and improve your chances of getting an interview. Trust us and you'll see that your resume will stand out amongst others.
3. Fill out the information
Enter some info with a user-friendly content editor. Change colors, browse fonts, check and edit the resume online, without any limits. Add new sections and change their order freely. Every resume template also has *8 unique color schemes. Experiment with resume formatting and find the best way to present your experience and work skills.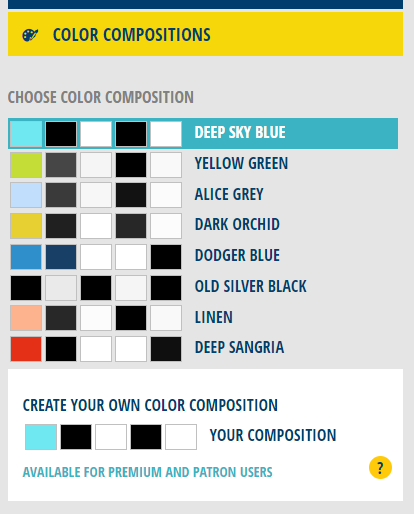 *In the Premium and Patron versions, you can make your own color palette, something unique to our online resume builder! CraftCv is the only resume making tool that is so advanced.

Thanks to the easy to use navigation of the resume builder, you easily know where to put which text so it shows up in the right place. Filling out the information, you immediately see its preview on the chosen resume template.
4. Choose a Plan
To be able to download documents, choose the right bundle, and pay for it through PayU (Polish clients) or PayPal.
A one-time payment lets you download countless resumes (and cover letters if it's in the bundle) for 7, 30, or 90 days.
You can change resume templates, modify the content, and download however many times you want. No restrictions. You can see current prices here: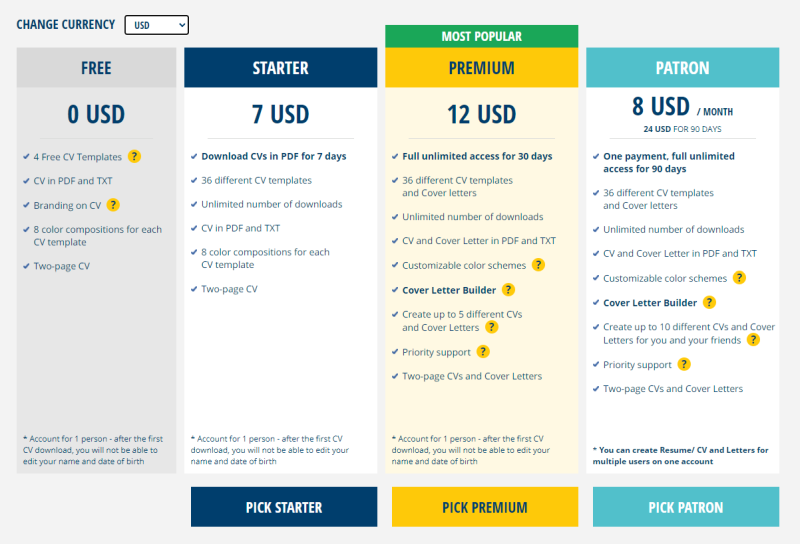 The bundle you pay for does not get automatically renewed. We are transparent. Without your permission, there are no - and will never be - additional costs.
FREE RESUME TO DOWNLOAD IN THE PDF FORMAT
We have 4 free templates in our resume builder. You can edit and download them after you make a free account on CraftCv. They have a blue "FREE CV" label. You can download free templates as many times as you want. They have CraftCV's logo in the lower right corner.
Free CraftCv resume templates below: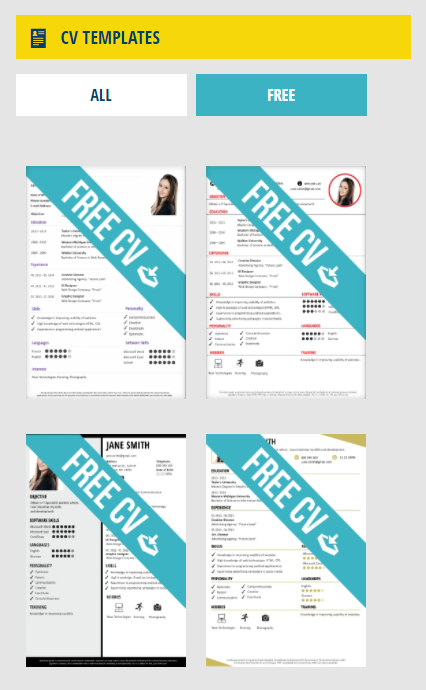 Making your first resume without experience? Or maybe you're looking for a resume for a student, IT specialist, or merchant? Using CraftCv's samples, you can be sure you won't forget about any important formalities or get stuck wondering if everything looks good. Making a resume does not have to be hard at all.
RESUME BUILDER
- MAKE A RESUME IN OTHER LANGUAGES
Thanks to CraftCv, you'll make a resume (and cover letter) in 7 other languages. Use the resume builder in a foreign language here.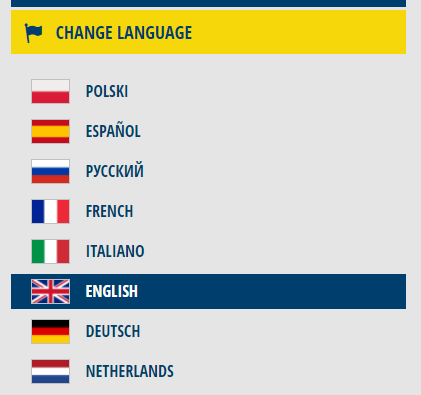 Remember! The software only translates names of sections or titles on the resume. It will not, however, translate the content you put in.
WHY CHOOSE CRAFTCV?
You can make a professional resume in just a few minutes. It's a very convenient and helpful tool for everyone looking for a job.
It's convenient and easy to use
the software works in your browser so you can use it wherever you are. You just need Internet access and Firefox or Google Chrome.
Various resume styles online
The online resume builder lets you choose one of many available visual styles, thanks to which your resume will be perfectly fitted for the job and company you're applying for.
Remember, the first impression you make with your resume is almost as important as the first impression we make at the interview. Thing is, if we make a bad impression with our resume, there will be no interview.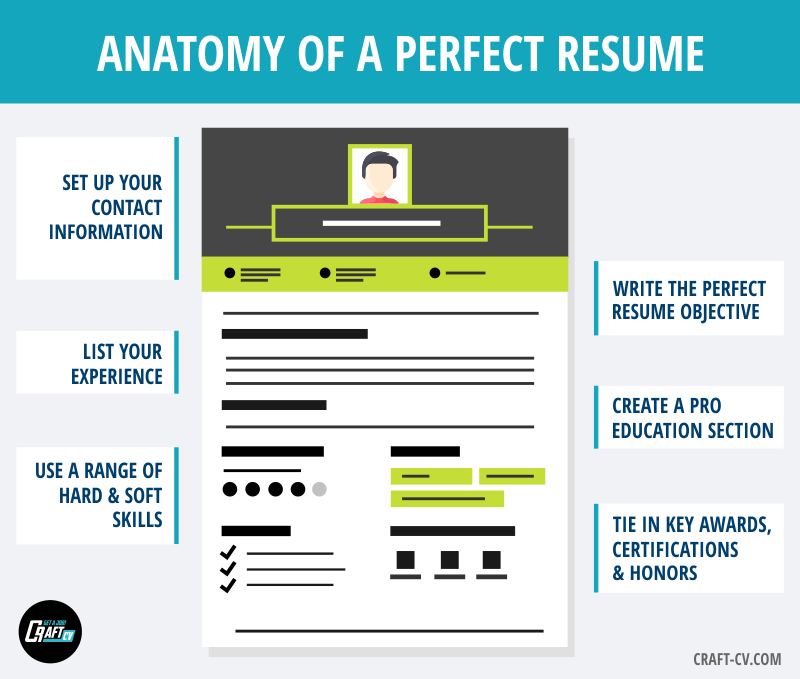 RESUME BUILDER ONLINE
FREQUENTLY ASKED QUESTIONS:
What format can I save my resume as?
Our tool generates a resume as a PDF file. That format is a standard one for job application documents. It guarantees that the document will look exactly how you made it.
Is Resume Builder really free?
After you make an account, you can download a free resume with a blue "Free CV" stripe. A free template, however, is signed with our logo in the lower right corner of the generated document.
Does the bundle you buy get renewed automatically?
Absolutely not - the ability to download resumes/letters expires. To be able to use the resume builder fully, but have to pay through PayU or PayPal again.
Is CraftCv Resume Builder safe?
Safety is our highest priority. To ensure it, CraftCv uses SSL technology (data encryption). SSL is now the most effective and most popular method of safe data transfer through the web. It is used by, for example, all online banks. We don't sell or show your data to anyone. You have full control over it and can delete your account at any moment.
What languages can I make a resume in? What if my language isn't there?
As of now, our resume builder is fully translated to 8 languages: Polish, English, Russian, Dutch, and Spanish. We are still working on new functions and language versions. If your language isn't there - no worries! You can edit and translate section titles and make a resume is any language.
Does the resume builder let you add a photo to your resume?
Of course! You can add or hide a photo in every sample. You just need to click the eye icon in the "add photo" tab.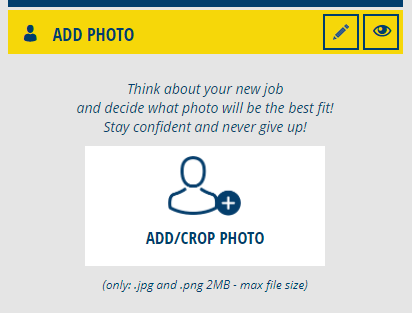 How many pages can I add to a resume?
Our resume builder lets you use max 2 pages. Check if all the information is needed for the position you're applying for. Write only the info that will be useful. Too much information isn't good for you. The more useless information you give, the less likely it is that the employer would read your resume.