Depending on the specialization and scientific titles, a teacher can work in a primary, high/vocational school or university, teaching:
the native language (for example, Polish for people in Poland)
foreign languages (philology majors);
STEM subjects: Math, Physics, Chemistry, Biology, etc;
specific trades: Material Science, Technical Drawing, Mechanics, Electronics, Economy, IT, etc;
History, Geography, Physical Education, Music, Art, etc.
Being a teacher is a lot of responsibility. They have to take care of children (preschool), spread knowledge, and teach students how to behave in a society. To get a job in this profession, you need to have a teaching certificate.
A SAMPLE RESUME AND COVER LETTER FOR TEACHERS
IN A RESUME MAKER
A teacher's resume will be effective when it looks professional and clear.
Make a resume and cover letter with
CraftCV
.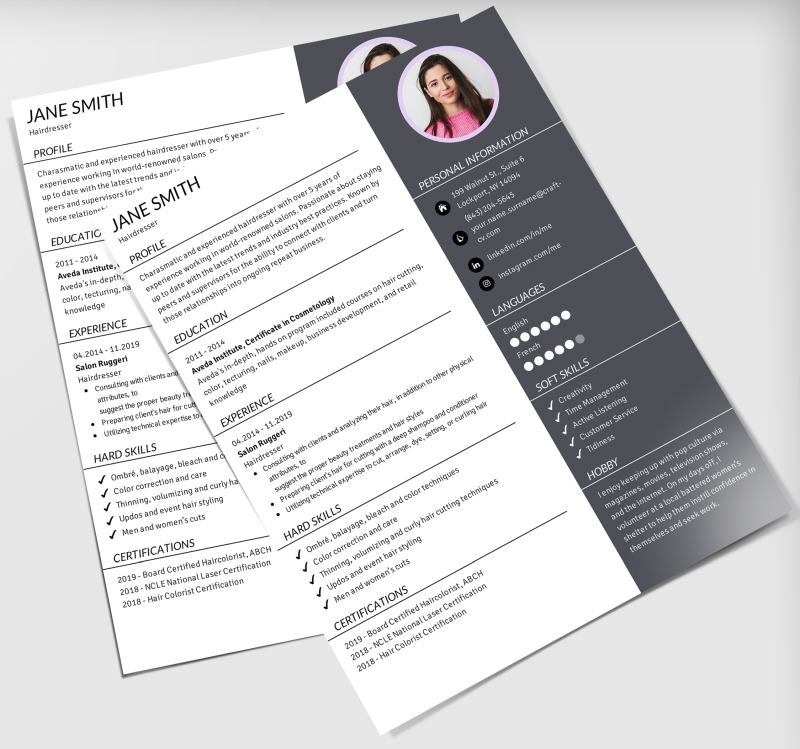 PERSONAL INFORMATION
All resumes should have contact information at the top of the page.
Personal information is one of the essential sections and the first thing that should be in a resume.
The typical order applies here:
Full name
Address
Phone number
E-mail
Optionally social media link - Facebook, Instagram, your own website
Example:
Name: John Smith
Address: Anchorage, AL
E-mail: name.surname@gmail.com
Phone number: +48 65445000
www.yoursite.com


TEACHER RESUME JOB DESCRIPTION
Even though this section's place is at the top of the resume, you should write it last. Why? Because you can then see your whole story. And now you can take it all and put it into a few sentences. Show them who you are. You will make a good impression if you respond to what's in the advert.
In a
career summary
, you can mention that you are creative, patient, and easily make contact with children and teens. Especially if those are mentioned in the job offer.
You are a special teacher for sure and have lots of skills and assets worth highlighting. You can show them off by writing a personalized career summary.
Here are some resume career objective examples for an elementary or high school teacher:
Patient and persistent maths teacher for elementary school grades 1-4. I am greatly skilled in planning a lesson and making a student curious through an interesting form of teaching. During lessons, I gladly use new technology and creative teaching solutions (such as dynamic use of learning space, live board games, or LEGO blocks). I rely on the active participation of all students. I want to show them that school is a friendly place in which inner motivation and joy of creation play the main role. As of now, I would love to join your teaching staff as a maths teacher.
I am an English language teacher with a lot of work experience. I like teaching and work with children and teens. I'm one of the few people who love what they do. At my job, I want to cultivate children's natural sense of wonder, help them find their own passion and talents, and develop them. I listen to what a child is interested in, what they feel, what they think. I always treat my students as individuals, remembering that each of them is unique and one of a kind and needs a different kind of support and guidance.
The job I do is my passion. I like children and teenagers, so I want to share every day with them. At work, I try to cultivate my students' love for mathematics. I love to discover mathematical talents. Work with a skilled student gives me a lot of pleasure. However, I never forget about students who have trouble with math. Being able to help gives me a feeling of fulfillment. Every little success of a student becomes my success. And that's the "magic of teaching" which makes me happy, which inspires and motivates me.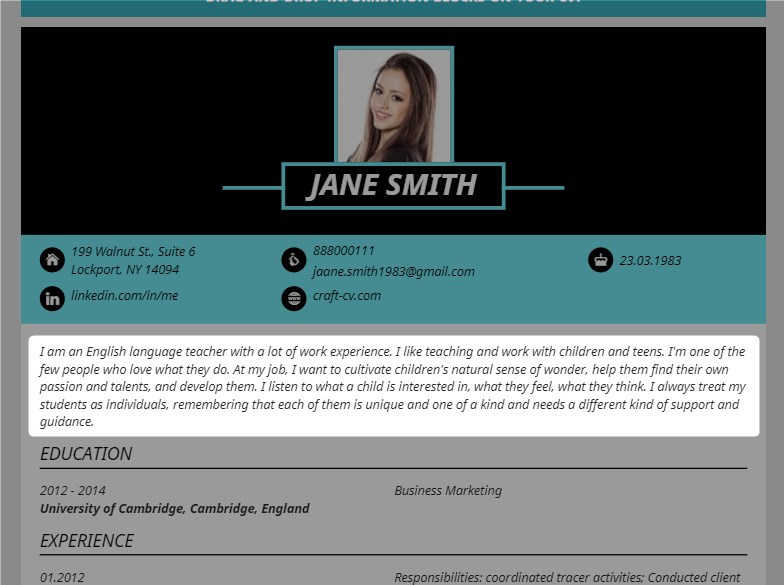 WORK EXPERIENCE IN A TEACHER'S RESUME
A resume should not be forcefully filled with unnecessary information. Applying for a certain position, you should only use the info and points in your career that matter to the job you are applying for. We only use info that matters to the employer.
Name the things that appear in the job offer first.
Avoid walls of text, use bullet points, and bold text - this will make your resume easier to read.
Example:
01/2020 – 12/2020
Secondary school nr 3, Krakow
Position: Polish teacher
Main duties:
teaching the subject in accordance with the curriculum;
checking the level of knowledge through pop quizzes, tests;
grading and argumentation of grades;
encouraging and motivating students to be more active and self-improve;
taking part in staff meetings.
If you're a teacher, your biggest achievements are your students' achievements. If you can, brag about, for example, your students achieving average results of 75% on their final exams or getting high final grades.
In a teacher's cover letter, focus on your achievements using enumerations, numbers, and bold text. Try not to copy the info from your resume, rather elaborating on the most important points. In our resume maker, you'll create a resume and cover letter that fits you visually. Make a resume HERE.
TOP TEACHER RESUME SKILLS FOR 2023
Disciplining students
Remote teaching (Zoom)
Google Apps (Gmaill, Sheets, Slides)
Being able to share your knowledge in a unique way
Diplomacy in talking with the students' parents
Being ready to learn more
Being open to people and new experiences
Ability to listen to students
Easily making contact with children
An open mind to new teaching methods
Ability to teach with the use of multimedia
Remember: The more similarities to the offer the employer sees in your resume, the more likely they are to invite you to a job interview. A list of your most important skills should be on the first page of your resume.
In a teacher's resume, you can add a separate section dedicated to your soft skills. As a teacher, they are really important.
TEACHER's RESUME - WHAT PERSONALITY TRAITS ARE USEFUL
IN THIS POSITION?
Patience
Ability to deal with stress
Creativity
Communication skills
Ingenuity
Punctuality
Responsibility
Consistency
Good perception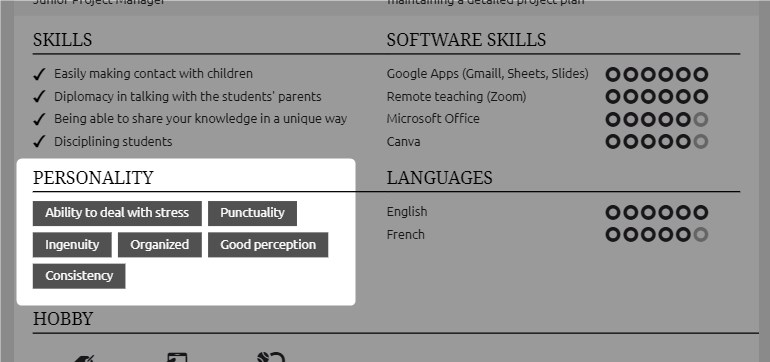 It's a job for ambitious and patient people whose presence commands respect in students. They should also be their authority on the subject they teach.
RESUME SAMPLE FOR TEACHERS
A resume sample for teachers should be quite simple, attracting eyes to a career summary and your experience. Use a clear and easy to read sample in neutral colors. SEE A TEACHER'S RESUME EXAMPLE.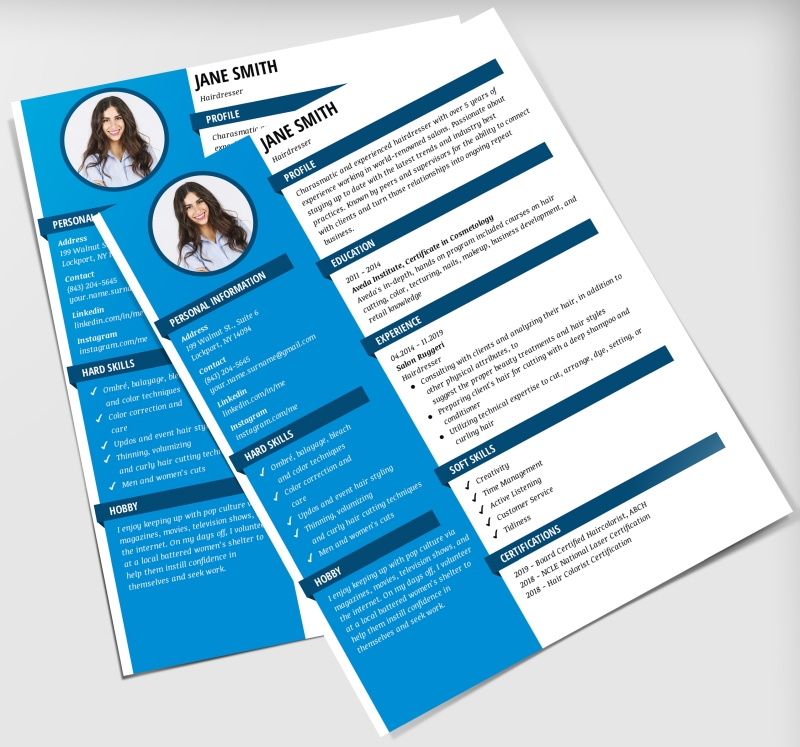 Now you don't need to format your resume and think about which font would look good in a cover letter. Our resume builder will do it for you!
CraftCV's resume maker is very easy to use and doesn't require any additional knowledge in graphics or downloading any apps. It fully works in your browser, thanks to which you can always open it and finish working on your resume.
COURSES / TRAINING / EDUCATION AND WORKING AS A TEACHER
Making a teacher resume, describe assets such as:
higher education
teaching license
qualifying courses
training, workshops, and what they formally allow you to do
Education is crucial in a teacher's resume so it should be presented well. Job offers usually require their candidates to describe their education.
In an Education section there should mainly be:
The dates of starting and graduating from school (format: month and year or just year)
The university's full name
Faculty and specialization we graduated in (if applies)
The topic of the final thesis (if it's useful to the job we are applying for)
Title or type of studies, EG.: Master's or 5-year Master's studies, second-cycle, Bachelor's, Graduate studies, etc (if applies)
What information should be included in a description of a course/training?
Let me show you an example:
Date of finishing the course - the name of the course / Organizer
June 2018 - "How to make students feel responsible for their own improvement - formative assessment" / Organizer: ABC
August 2017 "Methods of positive motivation - how to encourage students to learn effectively?" / Organizer: ABC
Before you put information about any training, course, certificate in your resume, make sure:
the training has anything to do with the position you're applying for
the training is still up-to-date (remember about the date you finished the course or got the certificate)
the level of your actual skills is not too far off from the ones your certificates imply
to remember that it's better to finish less, but more valuable, courses
that the job market loves specialists - even in development services

A teacher should constantly improve their knowledge of the subject they teach, at the same time knowing how to teach it in an interesting way.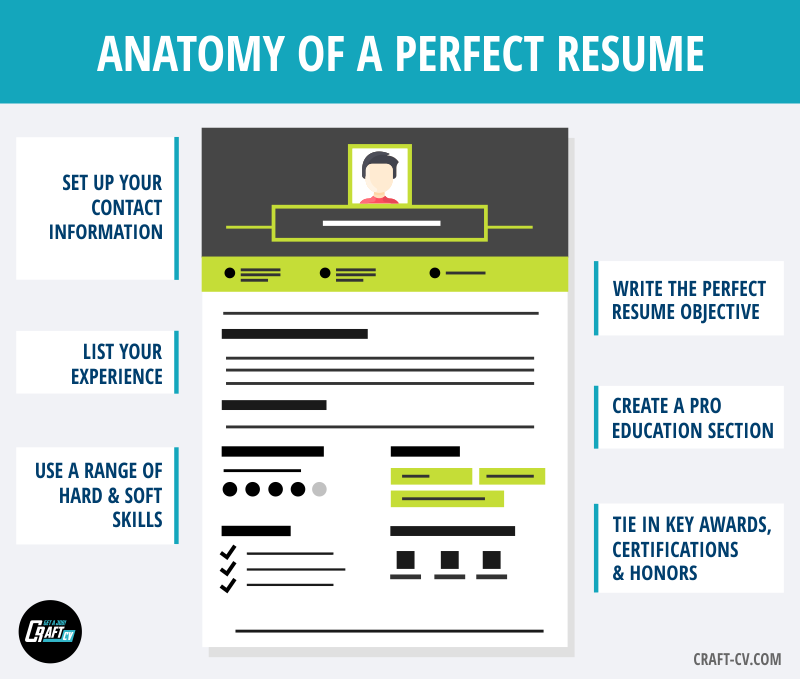 INTERESTS – IS IT GOOD TO INCLUDE THEM IN A RESUME?
Hobbies are an underappreciated part of a resume. If you use them right, you can convince the recruiter precisely with those final lines. You see, we best remember things at the beginning and the end.
Even if your hobby is part of the immortal trio: film, sport, music, you can get specific.
If film, then maybe Hitchcock's, or sci-fi?
If sport, do you like to play volleyball or cheer for your favorite football team?
If music - do you play drums or collect old vinyl records?
These are important for the recruiter because they tell our story.
So, how to write about interests in your resume?
Try to use your interests to show what kind of person you are
Avoid interests which could be controversial
If you have a lot of hobbies - list 2-3 strongest and most often practiced
Try to use your interest to highlight your competencies
And a little tip… only write about things you like and want to talk about! So that the easy question doesn't turn into another reason to worry. :)
A few final tips
Before you send your dream application, give yourself time. Return to the resume the next day - or at least after a few hours. And then…
1. Check if there are any errors or typos.
2. Delete any unnecessary info, like marital status, or parents' names or address
3. Write a satisfying career summary. It's the most important part of your application - it has to be specific and convincing.
4. Don't forget to include your best qualities. Maths teachers who have ideas on how to make students interested and are consistent and reasonably demanding people are very valuable. It's worth adding that you are punctual and ready to learn more if you really are.
5. Making a professional resume, remember: always put the most necessary information at the top of your resume (preferably on the first page).
6. Use bold text to attract the attention of the employer to the parts of your resume that fit the advert the most. Just remember to not use it too much.
7. Save your resume as a PDF, the most stable format.
8. Think about how to name the file. Only "Resume" as a title doesn't say much and you are risking it going to the rejected resume pile. Completed with your full name, it looks much better.
9. Write a meaningful message to the employer. Think about the e-mail's title too - that way, you can stand out.
It's also good to follow the rule of your resume being 1 A4 page long. However, sometimes - especially with a long list of work experience, it's impossible. Then, it can take up 2 pages; but never more than that.