Education is one of the most important sections on your resume. Especially when you are just entering the labor market. It is crucial when looking for your first professional experience or internship.

It is your education that tells the most about you to a future employer. It is worth taking care of its correct listing. Unfortunately, the section "education" on the resume often causes many troubles for candidates.
We will help you describe this section so that it will attract the attention of future employers.

In this article you will learn:
How to effectively present education in your resume
When to write more about your education
How to list education on a resume to interest employer
HOW TO DESCRIBE EDUCATION ON A RESUME?
Our advice? Take care of the chronological order.
It is important that the education in your resume starts from the latest. This means: from the most current to the oldest. This rule also applies to your entire resume.
Include the latest information at the beginning. Your future employer is interested in what you currently do. What job title you finally obtained is the most important.
Example:
2014 – 2017 Olsztyn University – Journalism and Social Communication;
specialization: journalism; full-time studies completed with a degree with distinction;
title: bachelor's degree
Our advice: If you do not attend the most famous universities, do not use the acronym.
Enter the full name of the university instead. It is best not to use abbreviations at all when entering proper nouns.
Listing education on the resume should be as follows:
Year of graduation or years of study. Instead of listing months list just a year. The commencement month of the studies is not that important
Name of the university/school and the city
Field of study, academic degree obtained
The topic of the dissertation. But only if it is consistent with the work position to which we apply.
Occupation acquired. For example electrician, welder, etc.
Need to generate a professional resume online right now? CraftCv's resume maker will help you make a professional resume in just a few minutes. With our resume builder, you'll increase your chances of getting a job by perfectly adjusting your resume to the job offer.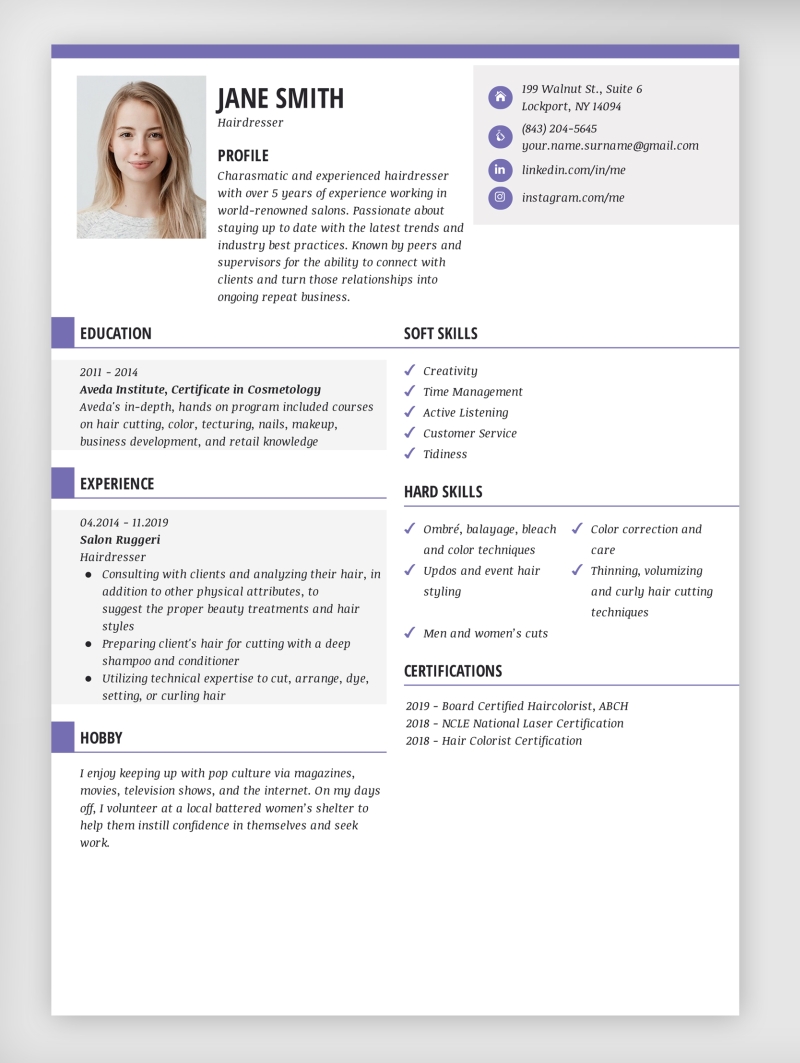 WHICH SCHOOLS SHOULD BE LISTED
IN THE EDUCATION SECTION ON A RESUME?
Skip the irrelevant stages of education.
It's best to list only the last completed school in your resume.
If you are still learning, list the current stage of education in progress and the one completed before it. If you have no degree yet, list high school education on a resume. After a few years of graduation, you can skip the earlier stages of education in your resume.
Such information is not needed by your future employer.
If you are in the course of your master's studies, leave only the bachelor's studies.
The exception: the secondary school had some specialization. Let's say, you attended a graphic class. Currently, you are applying for the position of a Graphic Designer. Mention secondary school on your CV.
Our advice: If you have not worked much, focus on the education section. The longer you work, the less information you should have in the education section. Don't add unnecessary information to fill out your resume. Your future employer will be discouraged. It doesn't matter what elementary school you graduated from 10 years ago. It only does if it was your last stage of education.
EDUCATION ON A RESUME – WHEN SHOULD YOU DESCRIBE IT?
The resume should be simple. Do not add the average of your grades. Only do it if you are looking for your first job. When you have no work experience, apprenticeships or internships such information might be handy.
Add the education in your resume at the top in two instances. Firstly, if you have little professional experience. Secondly, if it is inconsistent with the position you are applying for. In this situation, education is a strong point of your resume.
You can also add a more detailed description to it. On this basis the future employer can learn more about you.
Tip: Mention the activities you did in the school or student council. Olympics or competitions won, scholarships received or conferences organized will be beneficial. Those activities will show that we present a proactive attitude.
How to write a resume that guarantees your success? You will find everything you need to know to write a good coach's resume here: How to write a creative resume: Tips for 2022
HOW TO LIST EDUCATION ON THE RESUME WHILE YOU ARE STILL IN SCHOOL
You have not finished your studies yet? It's not a problem.
Insert the start date and add a phrase: currently or in progress.
Example:
2019 – currently University of Computer Science and Management – Management; Specialization: Business Management;
Bachelor's full-time studies.
It is a good practice to add a note whether you study full-time or part-time. This will show the employer that you can combine many tasks and fulfil your obligations. Often, job offers contain information that they are only looking for part-time students. In this case, it is also worth including such information.
Should I list the subject of the dissertation in the education section on a resume?
Your thesis is related to the industry the company operates in? Add the topic of your dissertation to your resume. Such information in your resume shows that you are interested in a given topic or issue.
With our help, you'll stand out in a modern way and show how innovative you are. The resume templates shown below are the work of a design specialist and Human Resources specialists. Make a resume and cover letter here.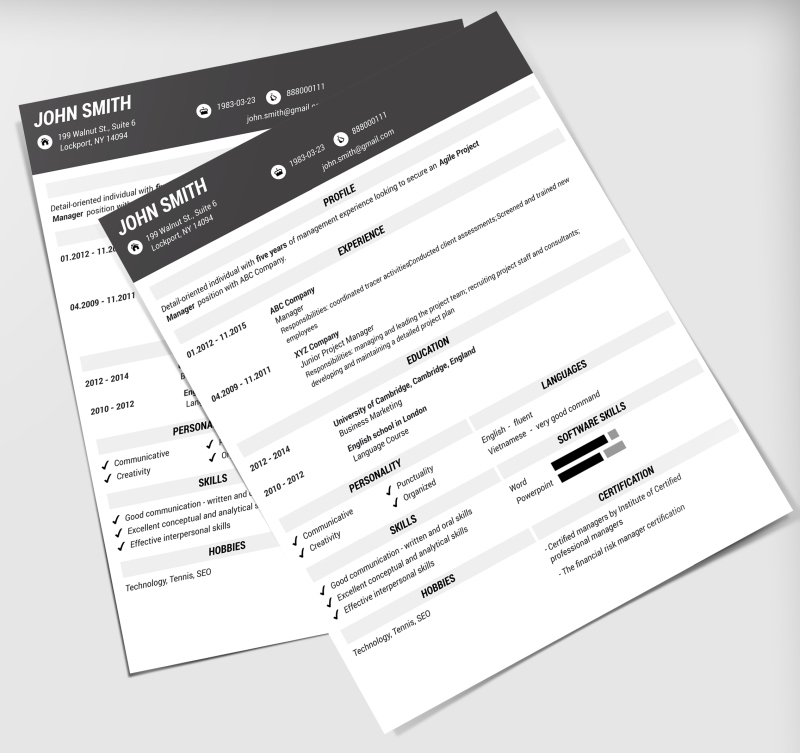 HOW TO DESCRIBE THE EDUCATION ON THE RESUME

TO DRAW THE EMPLOYER'S ATTENTION?
Add additional activity taken up during education. These can be scientific clubs, student organizations or local government. This will show your commitment. You can often gain relevant experience when working for such organizations. It is worth bragging about.


Did you take part in student exchange programs such as Erasmus during your studies? Great!

Add this to the education section in your resume. Foreign exchange programs show your employer that you know at least the basics of a foreign language. You have the curiosity of the world, you can adapt well to new circumstances. You also have many other traits needed at work. This could be a huge plus on your resume.


TRAINING COURSES ON A RESUME – WHICH ONES ARE WORTH INCLUDING?

Various types of courses and trainings are also important to the employer. Make sure they match the role you are applying for.

It is important that the recruiter sees your strengths. Especially, those in line with their expectations stated in the job advertisement.

Preferably as soon as possible.

Select certificates or courses that:

Are the latest, the newest.
show that you are constantly developing and that your knowledge is up-to-date
Let's say, you apply for a job of a copywriter. It is better that you list more writing training courses than the graphic ones

Run by a well-known company or person
If you are choosing from several courses, pay attention to who organized them. It is difficult to assess the quality of the course conducted by a small company. The recruiter will not be in doubt in case of a well-known organizer.

Of which you have a confirmation of participation
The recruiter will most likely not ask for a certificate. It is about fact that such confirmation was issued to the participants. This shows the professionalism of the organizers.

Which show your other strengths
Let's stick to the example of a copywriter. The training you provide should be related to the position. If you've learned to write convincingly, creatively, correctly, it'll come in handy.

Leadership skills? Time management? Have you completed a training course in these types of skills? That's handy, too! Feel free to add it to your resume. You will stand out from the competition. Those additions will show that you care not only about hard competencies but also the soft ones. They are very much needed on the market.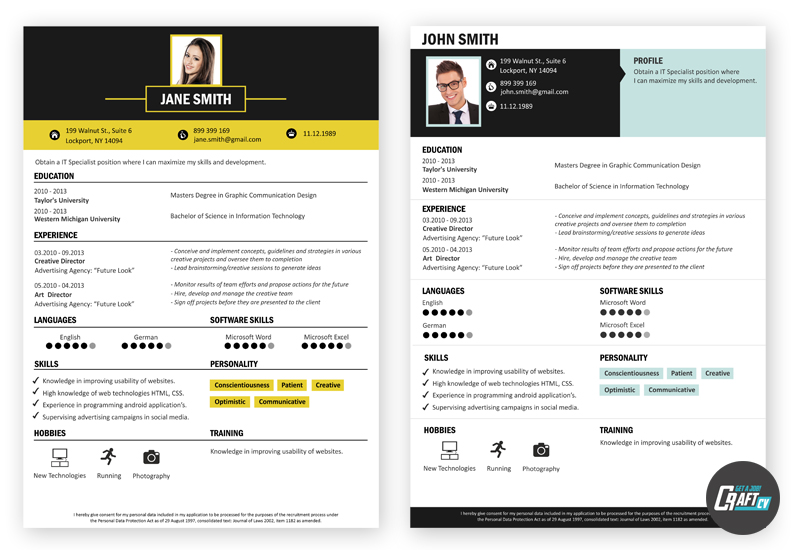 COVER LETTER AS CONFIRMATION OF OUR QUALIFICATIONS
Many people still don't add it to their application. A cover letter can greatly increase our value in the eyes of the employer. In the cover letter, you can actually write about everything related to your career. Mention your career goals and competencies. Describe your professional experience, education.


WHAT IF I LIE?
Giving false information can have serious consequences.


Important: If you are caught lying during a job interview, it's over. Your chances of employment disappear fast. If you have falsified documents (for example, a diploma of graduation, training courses), it may even have legal consequences. It is a crime.

Even if the lying in your resume seems tempting, it's not worth trying. As you know, the truth will out. This process is often very fast – the consequences, however, may last for years.