Use These Sales Resume Tips. Write a Killer Sales Resume in 2020. Craft a successful resume and get hired faster!
SALES RESUME WRITING TIPS
If you're an open and focused on results - work in trade and sales may be the perfect solution.


How should writing the resume of an ideal sales look like?


Below there are some tips for sales resume writing.

Soft competences are important in this industry, because without them no customer will believe or come back to us.
An excellent sales has the ability to combine his natural soft competences with knowledge and skills gained during education and professional career. Foreign languages skills and the ability to cooperate with foreign clients will be a great advantage.


The Sales should know negotiation techniques and be a pretty good negotiator. This is mainly how his work looks like, so he can't fail during the discussion.
PROFESSIONAL SALES RESUME WRITING
A sales representative first of all must be open to the people and effective. Therefore, it would be good to start by choosing the proper type of resume.
Fortunately, there are sale resume samples already prepared for a specific career path. The layout and design of your resume is more important than you might think. How visually pleasing and organized your resume is can have a great effect on the experience of the reader.
Let's see how your sales resume writing might look like: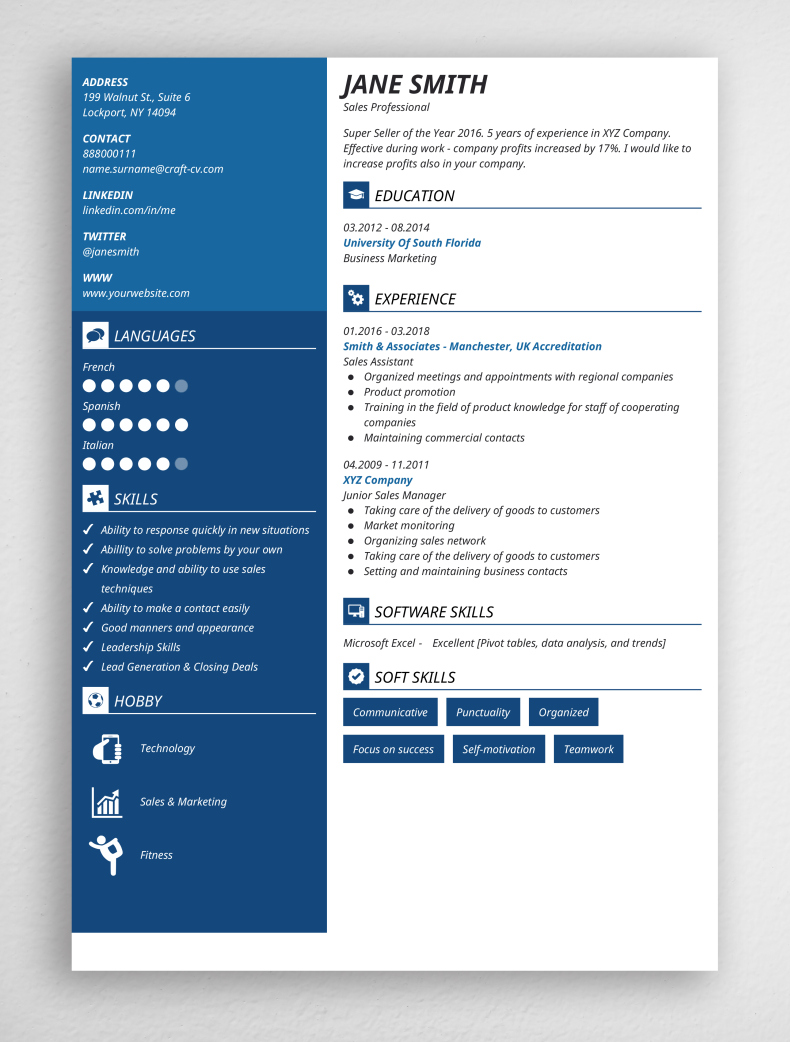 You can choose between chronological and functional sales resume samples. When it comes to colors - you can decide to use the colors of the company you're applying to. If you want to sell organic products - maybe it's a good idea to choose green? Navy blue and gray will surely work better for a bank or sales.
HOW TO INCLUDE SOFT SKILLS ON A SALES RESUME
Add your most relevant skills to your Sales Resume. When you apply for a job, you can tweak your resume to showcase the skills your prospective employer is looking for.
What skills should a sales have?
Good manners and appearance
Interpersonal skills
Knowledge and ability to use sales techniques
The ability to persuade
Focus on fulfilling tasks
Ability to manage time
Negotiation skills
Abillity to solve problems by your own
Industry knowledge
Ability to response quickly in new situations
Ability to make a contact easily
Organization
Time management
Attention to detail
Written and verbal communication
Leadership Skills
Strong Networking Skills
Marketing Techniques
Mental predispositions:
Patience and ability to stay calm in any situation
Ability to stick with your point of view
Ability to work on your own
Faith in your skills and capabilities
Loyalty
Positive attitude to work
Focus on success
Self-motivation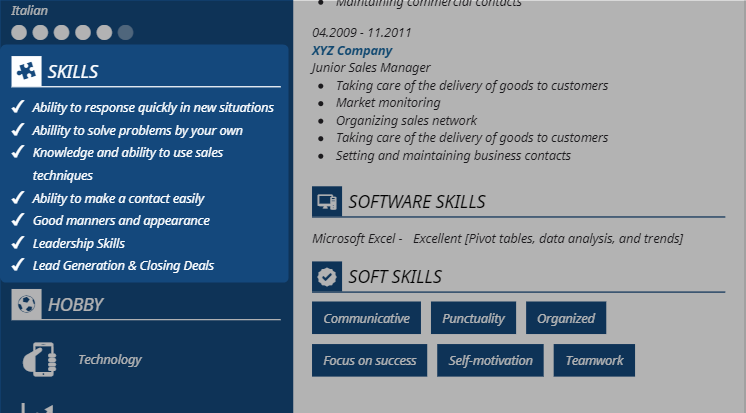 Most big companies use ATS systems to automatically scan resumes for keywords. So, be sure you list your skills as closely to how they're listed in the job description (more on how to do that later).
HOW TO ADD A PROFESSIONAL SUMMARY
DURING SALES RESUME WRITING?
The professional summary is best placed at the very top of the document. These two sentences will allow HR cell to get to know who you are. Lack of preparation during sales resume writing has a massive negative impact and causes resume to end up in the trash bin.
That's why you should highlight this element in the application.

The more precise we are, the more we inspire trust. When writing further sections, especially when describing work experience, you also need to use keywords.
Take a look at the sale resume sample:


First of all, write who you are
e.g. "I am a sales representative with 2 years of experience. I am specialized in the medical industry."
Add specific information on your professional success
e.g. "I have increased X product sales in the region by 7%."
If you have some of the top sales skills, employers will see you as the candidate they've been seeking. Showcasing your results in this way will prove to hiring managers that you're a talented salesperson worth short-listing for an interview.
Write where you would like to work, adding the name of the position you are applying for
e.g. "I am currently looking for a job as a medical representative".
The professional goal column, just like our entire professional biography, should fit to the job position for which we apply.
Do you know that a resume's format can have an influence on whether you get a job? Read some tips on how to send your resume so that it stays how it was when you made it: Resume PDF or Word DOC — Best Format In 2023
PROFESSIONAL OBJECTIVE/ SUMMARY
IN THE SALES RESUME [SAMPLES]
"Accurate, hard-working and responsible trade specialist with two years of professional experience in the pharmaceutical industry. Possesses highly developed skills in communication and convincing the people. Eager to face the challenges which are most frequently ended with a success. Always approaches given tasks and goals with commitment to do the job."
"Super Seller of the Year 2016. 5 years of experience in xyz. Effective during work - company profits increased by 17%. I would like to increase profits also in your company."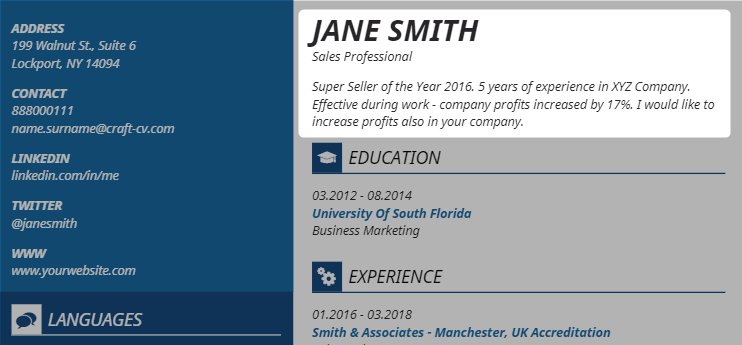 The summary created during sales resume writing shouldn't be too long.
The best solution is to write a description for 3-4 sentences.
PROFESSIONAL EXPERIENCE IN THE SALES RESUME WRITING - WHAT'S IMPORTANT?
This section is to show our employer that we already have experience in a given field. Because being effective is all that matters in this work, it is go to use specific numbers showing our results. Writing only about individual positions is for nothing.
It's better to write a resume for 2 pages and mention that you have developed a business conversation scheme that increases sales by 10%, rather than for 1 page and miss such important information.
It is worth using phrases such as:
"I was using the cash register and generating the cash report"
"over the past year I have increased the number of successful sales conversations by 23%"
Writing a short information about the fact that we are experienced in the B2C or B2B sector will also be a prove of our professionalism.
We leave the majority of the space to the current/last position in our career. In case of specialised and managing positions, professional experience is best presented in 3 parts: Tasks, Completed projects and Key Achievements.

Writing vague expressions won't convince anyone. However, having references will definitely increase your chances of being invited to an interview.

Are you asking yourself what to include in the "duties" in the sales CV in order to make your resume more clear?
Pay attention to the details in the recruitment information. The tasks listed at the beginning of the offer are the most important.
Main responsibilities of a Sales Resume Example:
Market monitoring
Organizing sales network
Maintaining commercial contacts
After-sales customer service
Taking care of the delivery of goods to customers
Setting and maintaining business contacts
Product promotion
Training in the field of product knowledge for staff of cooperating companies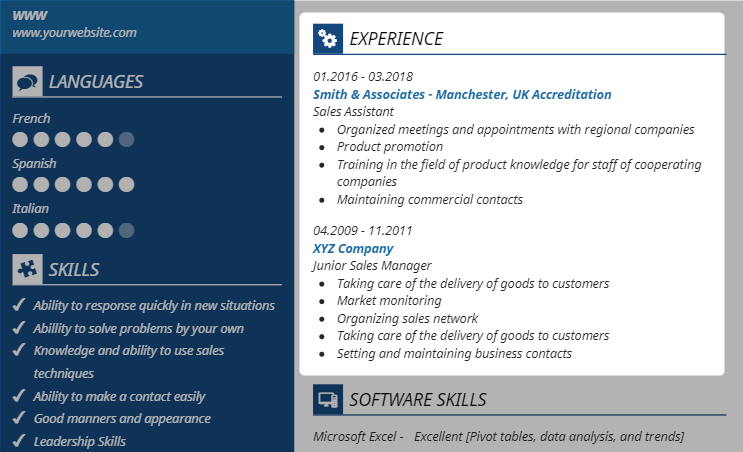 Doing the job of a sales may involve frequent traveling, so it is important for the candidate to have a driving license. Writing the year in which we obtained the rights may suggest that we are experienced drivers.
SAMPLE SALES KEYWORDS FOR YOUR RESUME
The use of so-called Power verbs, increases the chances of making a good impression with your resume from the beginning, when describing the profile, experience and key skills.
Here are the samples: I have achieved, developed, strengthened, maximized, implemented, optimized, fullfilled or successfully coordinated.
Buzzwords: solution selling, relationship building, relationship selling, relationship sales, customer service, customer relations, client relations, territory expansion, consultative sales, product marketing, negotiating and closing, channel sales, B2B/B2C, lead generation, OEMs, VARs, communication skills, new business development, sales presentations, PowerPoint, meeting and exceeding sales quotas, outside sales, inside sales, sales expansion.

SALES RESUME SAMPLES AND COVER LETTERS
AVAILABLE IN THE RESUME CREATOR FOR EDITION
The Sales resume will attract attention when it has a professional graphic design and is easy to read. Neutral colors will provide great background for a resume of a Sales Representative.
The highlighted headers and clear sectioning will effectively expose your advantages.
You can see more sales resume samples HERE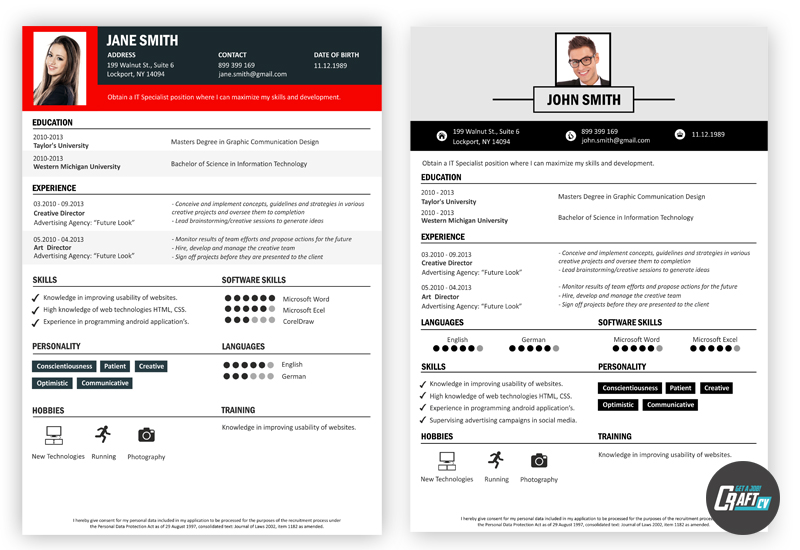 In the tradesman's professional cover letter, focus on what you can offer to your future employe
r. In order to do that, write about your previous successes, using calculations, numbers and bolds. Try not to copy information from your resume, but to tell more about it with the most important details.
HOW TO CREATE THE BEST SALES RESUME
EDUCATION SECTION
We only mention the last school. The more experience you have, the less important this section is. The exception is the situation in which you also previously studied in a given field, e.g. in a specialized high school and then during business studies in an university.
If you have completed courses or trainings connected to trade or customer service, you must use this information during sales resume writing.
Knowledge of customer relationship management (CRM) software can also be very helpful. If you are able to use Excel swiftly, remember to write about that too.
SALES RESUME - HOBBIES
Apparently nobody reads this part, but that's a nonsense.

An good recruiter will not only scan your social media accounts, but will also think about your hobby.


You ask why?

Because they tell more about your personality. Team sports underline your open personality and cooperation skills. Winning at the mathematical Olympiad - ability to count and your ambition.

And that's all the advantages of a sales.

That's why it's so important to know your own strengths and achievements during your ideal sales resume writing.


We hope that given information and presented sales resume samples will help you composing your own resume.
So how to write about the interests in your resume?
try to present yourself by hobbies, you want to share
avoid interests that may sound controversial
if you have many passions - choose 2-3 strongest and done most often
try to write about your competences with hobbies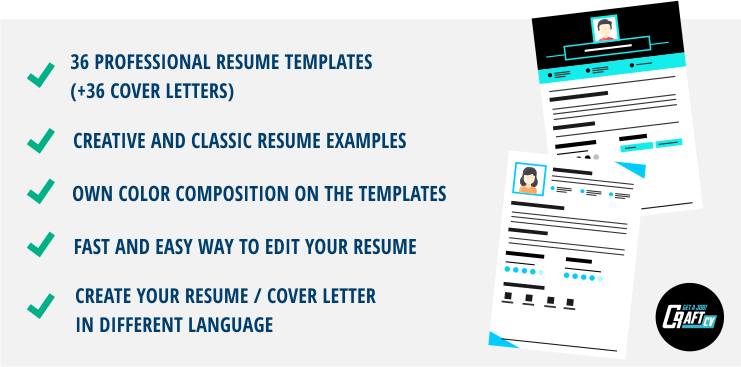 More Articles For Resume Writing: